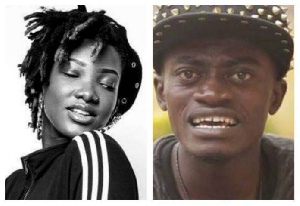 Actor cum musician, Kwadwo Nkansah aka Lilwin has revealed that he is extremely disappointed in Ghana Textile Printing Limited (GTP) for unveiling clothes for the late Ebony during her funeral rites.
Ghana Textile Printing Limited (GTP) signed an agreement with the family of the late dancehall artiste, Ebony born Pricilla Opoku Kwarteng, and produced clothes in her memory.

GTP, manufactured customized cloths with the titles of some of Ebony's songs.

One of the cloths which were used for the funeral were black and red design with the title of Ebony's song 'Maame Hwe'.

According to GTP,'Aseda', the title of her gospel song, will also be used to design cloths for occasions like naming ceremonies.

Sharing his opinion on the issue in an interview with Koo Fori on Koforidua-based Bryt 99.1 FM monitored by Razzonline.com, Lilwin indicated disdainfully that:

"I'm much disappointed in GTP for unveiling cloths for Ebony after she is dead. They did not support her or manufacture cloths for her when she was alive…GTP could have supported Ebony's brand the time she was alive. Ghanaians would only use celebrities to sell their products when we are dead".
"Look at M.anifest, he is always in African print but they will not use him until he is gone before they realize that he was into African prints", he said sadly.

Ebony Reigns (born Priscilla Opoku-Kwarteng) died through a car accident on 8th February, 2018 and buried on 24th March, 2018 at the Forecourt of the State House.