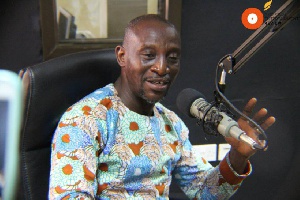 Ghanaian gospel musician, Pastor Lenny Akpadie has responded to 'Ghana is a village' comment made by dancehall artiste Shatta Wale during his Reign Unveiled concert in London last weekend.
The 2008 Ghana Music Awards Most popular song of the year recipient described the Zylofon signed artist's comment about his own country as discreditable and uncultured.

As a guest on Kasapa Entertainment on Kasapa 102.5FM with the host, Kojo Preko Dankwa, Pastor Akpadie chastised Shatta Wale for his ill-mannered attitude towards his country and blamed the media for giving him [Wale] the space to be heard of his uncouth utterances.

Pastor Lenny Akpadie claimed once the self-acclaimed King of the Street has likened Ghana to a village then he [Shatta Wale] should be well informed that he comes from a hole.

"If Ghana is a village then you're a villager. Ghana as a whole is divided into regions and he comes from one of the regions because the regions are also divided into districts and constituencies. If he says regions are below village level then when it gets to his [Shatta Wale] hometown, it may be a hole. I want to put on record that journalists are giving Shatta Wale too much leverage."

Comparing secular songs with gospel music, The 'Most High God' hit singer expressed his opinion that the two genres are incomparable. He categorically stated that gospel music represents the light and the secular music represents the darkness so it is of unwarranted for a worldly artiste to compare himself to a gospel artiste who has the Spirit of God backing him.

"I can say on authority that I'm more than Shatta Wale but just that we say 'light is more than darkness'. I'm doing gospel music and he's doing worldly music and I am the light of the world that is why God proved that He's a wonderful God so our 'Most High' song won VGMA Most Popular song of the year in 2008. God showed that all songs put together in that year, He is the Most High God and that was the time of Kwaw Kese and nobody could've cheated us on that because it was everywhere like Kasapa 'Agye Bebiaa'.
"Any gospel musician who is doing gospel music with the spirit of God in him, there are fake and real gospel artistes so the one who is real is more than the secular musician that is why I am saying that I am more than Shatta Wale. The gospel musician who is doing gospel music with the Spirit of God backing him can't be compared to a secular artist. You can't compare light and darkness. Undisputedly Secular music is darkness so once the songs don't carry the weight and the power of God. Shatta Wale calls himself the King on the street but I call myself the King in the Kingdom of God." Pastor Lenny Akpadie told Kojo Preko Dankwa on Kasapa 102.5FM

Pastor Lenny Akpadie took the country by storm when he released "Most High God" barely ten years ago. The song received massive airplay and transcended beyond the borders of the country. It won him the artist of the year and the popular song of the year in the 9th edition of the Ghana Music Awards. He became the first artist in the gospel fraternity to grab the popular song of the year award.

He is currently promoting his new single titled 'Yes, You are' which was released months ago.

Shatta Wale during his performance on stage, he paused and said "I just wanna share that word with you. Shatta Wale is a very nice guy. All that you keep reading about me on google from Ghana…Ghana is a village, say village, village."

Realising that some of the patrons started hooting him offstage for his statement he said "no no, girls let me tell you, don't get pissed. Look at how you are looking beautiful, nice, sexy, sumptuous."