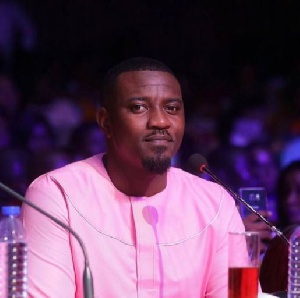 Within January and February 2018, there have been more than 28 robberies with associated deaths in the Greater Accra Region alone with residents of Oyibi and surrounding communities including Frafraha, Malejo, Greenfield Station and Apolonia in the Kpone-Katamanso District and Adentan Municipality being the worse hit.
Actor and activist of the opposition National Democratic Congress (NDC), John Dumelo has called on the President, Nana Akufo-Addo to ensure that Ghanaians are safe.

This week, the country has recorded several daylight armed robbery attacks and it has left Ghanaians in a sorry state with concerns being raised by the citizenry about their safety.
www.entertainmentgh.com monitored a post on Twitter, where the actor said "Dear @NAkufoAddo, the insecurity in Ghana is becoming alarming. From Oyibi to Industrial area and now Tema. Citizens are being killed. Who knows where they will strike next. Ghana is looking up to you. Please make us all feel safe. Regards from Hohoe".


Dear @NAkufoAddo, the insecurity in Ghana is becoming alarming. From Oyibi to Indutrial area and now Tema. Citizens are being killed. Who knows where they will strike next. Ghana is looking up to you. Please make us all feel safe. Regards from Hohoe.

— Mr Dumelo (@johndumelo1) February 28, 2018