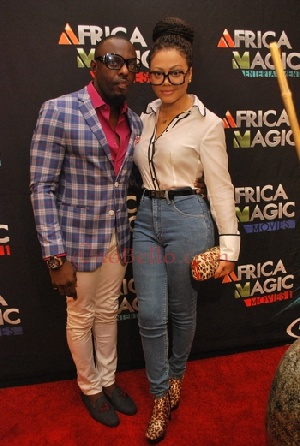 Thu, 11 Jul 2013 Source: Nii Ogbamey Tetteh-News-One
Renowned Ghanaian actor Kofi Adjorlolo has made a public announcement that his Nigerian acting colleague, Jim Iyke, is now more of a Ghanaian than Nigerian.
This statement may have been occasioned by Jim's recent relationship with actress Nadia Buari.

For some time now, the two have been spotted together and it is being speculated that they are dating.

After the usual 'we are just friends' comments, the two eventually admitted that they are seeing each other.

They have not, however, given any indication that marriage bells would be ringing soon.

Presenting an award at the maiden edition of the Bass Awards which took place at the National Theatre on Saturday, Kofi Adjorlolo acknowledge Jim and Nadia who had love written all over their faces saying, "I can confidently say that Jim Iyke is now a Ghanaian".
At this year's 'Ghana Meets Naija' concert, NEWS-ONE spotted Jim moving to the wonderful tunes which were being played.

The two love birds have also been spotted at some events like the Ghana Music Awards.

Some social media commentators also started a hoax that Nadia had broken up with Jim Iyke but the sexy sassy actress reacted posting on her instagram page along with some pictures of Jim and herself having fun saying, "#Life is a beautiful journey for all those who are willing to #live and #love!,"

One of Ghana's television show hosts and finest actors, Chris Attoh, who hosted the Bass Awards, maintained that both Jim and Nadia looked good together.
Source: Nii Ogbamey Tetteh-News-One