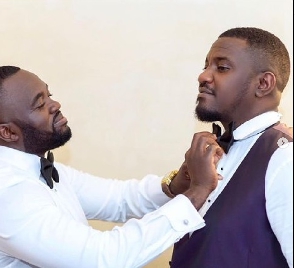 Entertainment pundit Mr. Logic has predicted that Ghanaian actor turned-politician John Dumelo will lose the Ayawaso West Wougon constituency vote if he wins the primaries of the National Democratic Congress (NDC).
He said his view is based on personal research.

His assertion comes on the heels of Fred Nuamah's decision to step back from his initial plans of contesting against Dumelo.

Speaking on a panel discussion on UTV's United Showbiz on August 12, 2023, he voiced his disappointment with Fred Nuamah's withdrawal from the race, as he believed Nuamah had a better chance at securing victory than Dumelo.

"For me, I was so happy that he (Fred Nuamah) was contesting John because John was too boastful. It seemed like the place belonged to him. He was so overconfident that he was going to win.

"If Fred Nuamah has backed down, I am disappointed with the entire system. I wanted Fred to win because, regarding John, I foresee another loss. He will still lose. Yes, I am telling you, everyone conducts their own research, and my research indicates that John will lose again.
"The people in that area already have their preferred candidates. And merely because he came close last time doesn't mean he could have won. So, what I am saying is that I feel John will not win this time; he will lose."


John Dumelo will lose the Ayawaso West Wuogon parliamentary seat again - @MrLogicMusic #UnitedShowbiz pic.twitter.com/S0CvmsM5J3

— UTV Ghana (@utvghana) August 12, 2023
AM/SARA
Ghana's leading digital news platform, GhanaWeb, in conjunction with the Korle-Bu Teaching Hospital, is embarking on an aggressive campaign which is geared towards ensuring that parliament passes comprehensive legislation to guide organ harvesting, organ donation, and organ transplantation in the country.


Share your news stories and ideas with GhanaWeb




To advertise with GhanaWeb