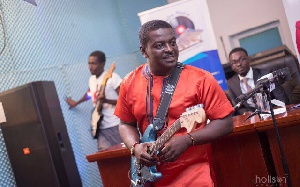 Social media has captured our world, and within it are the influencers that people turn to when they need some industry input.
Bloggers have become powerful for industries, and with their help they can boost sales incredibly. It's obvious Zylofon Music signed act, Kumi Guitar has come to realize that he can use bloggers to achieve unprecedented feat in Ghana music.

Well, the atmosphere at the Zylofon Media conference room located inside East Legon, Accra on March 1, 2018 changed completely as Kumi Guitar's humble appeal to the media for an unflinching support got many emotional.

Kumi Guitar regardless of all the quality songs still remains anonymous in the Ghanaian household. The retrogression has been giving Kumi Guitar a headache, therefore, at a presser went on his knees and begged celebrity bloggers to help push his brand.
"I'm not ashamed to kneel. If there is anything more to be done, I'm ready to do it…I'm pleading with you, I want to see myself out there. I want Ghanaians to accept me and support my brand," a teary Kumi Guitar begged at a listening session for his yet-to-be-released single, 'Betweener'.

Although it's not readily known if Kumi Guitar is under pressure at Zylofon Media but it is crystal clear that the guy really needs help to justify his signing.