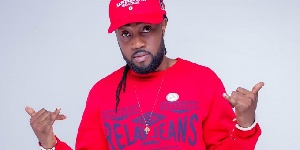 The beef between Kumi Guitar and Paa Kwasi seemed to have begun a couple of months ago and tempers were presumed to have cooled, however, in what seems to be a fresh twist to the grudge between the two highlife musicians, Paa Kwesi has made some interesting claims.
Ghanaian highlife artiste Paa kwesi formerly of Dobble Music Group says that Zylofon Media's artiste, Kumi Guitar needs extra work to become a very good highlife musician but for now he sees Kumi Guitar as "a bit good".

Speaking to DJ Candy Man on Atinka FM, the "Nana Yaa" hitmaker remarked that his fellow highlife musician, Kumi Guitar, showed gross disrespect to him concerning a comment that was made by Kumi Guitar.

Reacting to this, Paa Kwesi indicated that "you don't disrespect a brother like that… He said that he doesn't know Paa Kwesi…well, that is normal, I don't expect everyone to know me". He said.
"but for him to have said that Paa Kwesi is a golf player, I think that it is very disrespectful…if for nothing at all, I have recorded several hit songs than him…" he noted.

He, however, noted that some of Kumi Guitar's songs are enjoyable, especially, Kumi's "One Liter" of which he sang a few lines.

He also indicated that he is poised to releasing a number of hit songs in the coming days and weeks just as has been his hallmark. To this, he expects Ghanaians to anticipate the best to come from him.