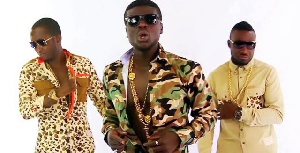 Tue, 31 Dec 2013 Source: Nii Atakora Mensah
Producer extraordinaire Appietus has released the first visuals off 'The Big Bang' compilation he is releasing at the top of 2014.
The visuals of "Tinkolo" which features regular hit makers 5Five was shot by Creative Vision and features 5Five's Gyino, Killi, Papi with a surprising cameo appearance by Okomfo Kwaadee.

The cameo by Okomfo Kwadee in this video seems to back the words Appietus put out to NewsOne newspaper in October about the goodness in Okomfo Kwadee's mental state.

It also seems to reassure fans of Okomfo Kwadee that Appietus is ready to drop a Kwadee song any moment from now.
The Big Bang compilation also features songs including VIP's - "Party", Samini's - "To Serious", Stay Jay's - "Seiho Mame", Kwaw Kese's - "I Feel Good" and 2ga featuring BET winner Sarkodie's – "Emere".

Watch video below…


Source: Nii Atakora Mensah