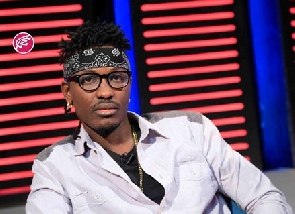 Ghanaian musician and Ga rapper, Tinny born Nii Addo Quaynor has hit hard on his fellow musician Kwaw Kese after he stated in an earlier interview that the MadTime boss was a wack rapper.
In an interview on HitzFmwith Dr Poundz, Tinny stated that Kwaw Kese disrespected his fellow artist by putting his awards in a wheelbarrow to the Vodafone Ghana Music Awards in 2017 claiming he wants to sell them.

Explaining his comment, he said should an individual be honored and that honor is worth that individual, why will the individual think of selling what he is worth. So the step Kwaw Kese took was uncalled for and a disrespect to other artist.

"If you are given gift from someone and that gift is so important to you, can you decide to seell it? But Kwaw Kese kept his awards in a wheelbarrow, he doesn't even respect the awards because he didn't work hard for it and he brought it to Ghana Music Awards to sell it. That's a big insult for every artist in Ghana." He stated.

Tinny also revealed that, his hard work over the years should have been considered this year and be nominated in the category of Artist of the Decade at VGMA 2019.
Tinny made the submission that looking at what he has done past 10 years, he should have been nominated in such category.

He further added that although he didn't see his name in the list, he wasn't surprised and didn't allow it to bother him because it wasn't the first time he has gone through that as an artist.

"Nothing came in mind. Maybe its because I speak the truth," he said.

According to the 'Aletse Kankpe' hitmaker, he has been receiving messages from people who have followed his music over the years asking him why he wasn't part of the nominations and he has no better answers for them rather than to say it doesn't bother him because at the end of the day it's a game.