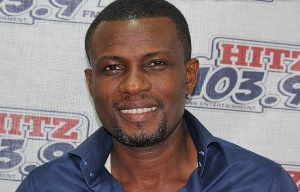 The chips are certainly falling in place and after all the banter and jostling for positions, proper names of persons to fill positions at various units within the Ministry of Tourism, Arts & Culture, www.entertainmentgh.com can state – are emerging!
This portal reported the news of Kwadwo Antwi moving to the Ghana Tourist Development Company, as well the imminent takeover of the National Commission on Culture by Socrate Safo.

This portal, www.entertainmentgh.com, once again, has reliable information that popular music producer and former music reality show judge, Mark Okraku Mantey – has been appointed to head the Creative Arts Council of Ghana.

The Council would help the Ministry to fashion out appropriate policies and administrative structures that can propel the growth of the industry as a major pillar for socio-economic advancement.


The Ministry has made some key creative arts' policy interventions and strategies including coordination among key MDAs as in the development of the creative industry, facilitation of access to finance and the export market for products of Ghanaian creative industry and facilitation of the establishment of a council for the creative industry.

Mark Okraku Mantey's topmost priority as Head of the Council is to see to the revision, ratification and implementation of the Creative Arts Bill – and its passage into Law.

Before exiting office, Mrs. Elizabeth Ofosu-Adjare, inaugurated an interim Creative Arts Council to support regulate the industry.

Membership of the Interim Creative Arts Council, which was headed by Mr. Akunu Dake, included practitioners from Culture and Creative Arts bodies such as, Ghana Culture Forum, MUSIGHA, Ghana Book Publishers Association, Association of Visual Artists, Actresses Association of Ghana, Copy Ghana and Ghana Fashion Designers Association