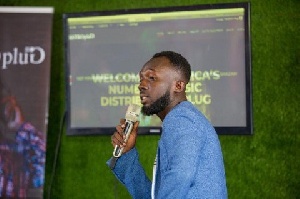 Sat, 19 Jan 2019 Source: Prince Akpah
Young Ghanaian and Nigerian tech entrepreneur, David Drexx George has launched a new platform to enable musicians distribute their music across 150 platforms globally.
The platform which is named Distro Plug was created to reduce the stress musicians and their management go through and also provide a globally competitive brand from Ghana.

Created by David Drexx George – a Ghanaian/Nigerian tech investor and– launched the new product on Wednesday, January 16, 2019, in Accra to save musicians of the stress.

Demonstrating how the platform works to the press, Mr David mentioned, musicians are to log on www.thedistroplug.com where they will have the opportunity to upload their material after paying a GHC10 equivalent to $1.99 and after 2 working days, their materials will be available across the globe.
He also revealed that after uploading, Musicians are entitled to 100% royalties and would be offered free marketing through billboard and online platforms.

Distro Plug has started operations and are currently accepting sign-ups from musicians across Africa.
Source: Prince Akpah