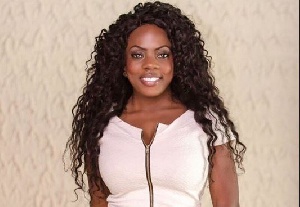 Award winning broadcast journalist, Nana Aba Anamoah, lost her cool and insulted a fan on social media to who made the egregious mistake of commenting on the top broadcast journalist's breasts.
There are days when social media is just so boring that one wonders why they ever subscribed to a particular platform, and then there are days when it blesses you with something to crack up about.

Award-winning broadcast journalist Nana Aba Anamoah has always been good with responding to tweets on her official Twitter page, and it appears that she's not afraid to "bite" anyone she feels is taking liberties with her either.

When a social media user hilariously tweeted that Nana Aba Anamoah's "milk jugs" are "bigger than her future," the celebrated broadcast aptly put him in his place.
It's no news that women in the media have a much harder time in the industry due to gender unfairness compared to men, so it's good to see that some women in the industry aren't afraid to stand up for themselves...Good on you Nana Aba!

Checkout Nana Aba's tweet below: