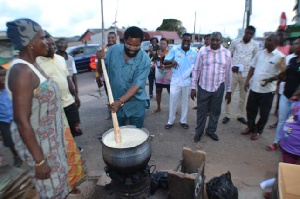 Host of the most popular satirical talk show in Ghana, Nii Kpakpo Thompson has mocked the Accra Mayor, Alfred Oko Vanderpuije, after the latter decided to demonstrate his banku turning skills while campaigning.
Alfred Oko Vanderpuije who was sighted a fortnight ago seriously turning banku during his door-to-door campaign tour of the Korle Gonno community, argued that the act is a way of bringing the message of hope and advancement to the people.

"With me turning the banku shows that I can cook. I'm bringing a message of hope to our restaurants, our women who cook and sell banku along the roads. I'm telling them that with me, there is going to be advancement," the mayor of Accra argued.

But Nii Kpakpo on his Tonight Show on Viasat1 last Friday, somewhat disagreed with the approach by the MP, which according to the host, is not close to the role of an MP in Ghana.
"My brother in 'beardedness' has launched his campaign full swing. He's been going around his constituency campaigning to take office as MP and he's been turning banku. He says,'You have to show the skills you have acquired to let the people know that when you come you would expand their businesses for them?'"

"What is the work of an MP? Is it to be turning banku?" Nii Kpakpo Thompson joked.

Nii Kpakpo also used his opening monoloque to poke fun at the Chief of Staff, Julius Debrah, who also recently cautioned Ghanaian adults to desist from drinking Kalyppo fruit juice because it is not good for their health, after which he delivered a long list of word play for "Kalyppo" and their interpretations.