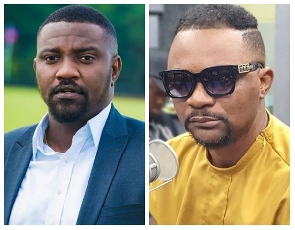 Ghanaian actor and politician, John Dumelo, has responded to remarks made by entertainment pundit Mr. Logic, who predicted another electoral defeat for the Member of Parliament hopeful.
John Dumelo, is the National Democratic Congress (NDC) candidate for the Ayawaso West Wuogon Constituency located in Accra.

Dumelo said he was unfazed by the predictions, pointing out that Mr. Logic is affiliated with the New Patriotic Party (NPP), which naturally colors his perspective on the matter.

Addressing Mr. Logic's comments in an interview on TV3, Dumelo said, "I watched that video and you know I wouldn't make logic out of what Mr. Logic is saying at all... I mean he is a sympathizer of the NPP, so I don't expect anything different from what he is saying."

Dumelo, who was recently acclaimed as candidate for the constituency, highlighted the diversity of opinions in the political landscape, asserting that he holds a differing viewpoint along with his supporters.

He emphasized that the beliefs of those who have voted for him, both in the past and those he anticipates in the future, contributes to his confidence in his electoral prospects.

"Opinions are like music, everybody has them," Dumelo stated.
"Some people will think I will win, some people will also think I will not win, and so that is his opinion. I bear a different opinion because the 37,000 people who voted for me in 2020 also bear a different opinion, and I think that the over 45,000 people who will also vote for me bear a different opinion, that, yes indeed I can win and I will win."

What Mr Logic said.

Speaking on a panel discussion on UTV's United Showbiz on August 12, 2023, he voiced his disappointment with Fred Nuamah's withdrawal from the race, as he believed Nuamah had a better chance at securing victory than Dumelo.

"For me, I was so happy that he (Fred Nuamah) was contesting John because John was too boastful. It seemed like the place belonged to him. He was so overconfident that he was going to win.

"If Fred Nuamah has backed down, I am disappointed with the entire system. I wanted Fred to win because, regarding John, I foresee another loss. He will still lose. Yes, I am telling you, everyone conducts their own research, and my research indicates that John will lose again.

"The people in that area already have their preferred candidates. And merely because he came close last time doesn't mean he could have won. So, what I am saying is that I feel John will not win this time; he will lose."
I wouldn't make logic out of what MR. Logic said about me. - JOHN DUMELO#GhanaTonight #idey4u #BBNaijaAllStar #GovernorMustGo #NeverAgain pic.twitter.com/h994YYu6J0

— John Terry Tresh (@JohnTerryTresh) August 15, 2023
AM/SARA
Ghana's leading digital news platform, GhanaWeb, in conjunction with the Korle-Bu Teaching Hospital, is embarking on an aggressive campaign which is geared towards ensuring that parliament passes comprehensive legislation to guide organ harvesting, organ donation, and organ transplantation in the country.
Meanwhile, watch Legal Agenda on GhanaWeb TV below:







Watch the latest edition of BizTech and Biz Headlines below:




Share your news stories and ideas with GhanaWeb




To advertise with GhanaWeb