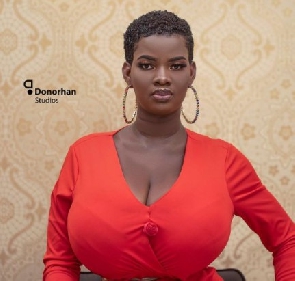 Ghanaian socialite, Pamela Odame Watara, has opened up about her prolonged absence from social media, sharing a heartbreaking reason behind it.
Pamela gained significant attention and popularity due to her voluptuous breast, but she suddenly disappeared from the online scene, putting her skits on hold.

During an interview on One Ghana TV, she revealed that she needed time to reassess her life after conceiving a baby.

Citing concerns for her well-being and that of her baby, Pamela made the difficult decision to take a complete break from her social media presence, however, only three months after giving birth her son had passed away.

"My son was about two to three months when he passed. It was not easy for me and my baby daddy," she revealed.

As a first-time mother, Pamela expressed the deep bond she had formed with her son, making losing him an incredibly painful experience that took a toll on her mental and emotional well-being.
The profound impact of this loss caused her to lose a lot of weight.

"I lost weight drastically. It was very tough but you have to just accept it and move on with life. What is ahead is better than what is gone," she said.

Acknowledging the immense difficulty, Pamela emphasized the importance of accepting the situation and moving forward in life.

She however believes that the future holds greater things than what has already passed while indicating her determination to find strength and purpose despite the heart-breaking loss she has endured.


Watch the latest episode of Nkommo Wo Ho below:





ADA/DA