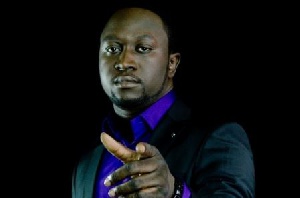 C.E.O of Lynx Entertainment Record Label, Richie Mensah, has opened up on the issue of veteran Highlife musician, Amakye Dede crowning Kuami Eugene as 'Future of Highlife' in Ghana's music industry at the just ended 2019 Vodafone Ghana Music Awards (VGMA).
Some industry players registered their displeasure about the move, saying there were other highlife artistes who equally deserved that honour.

Some suggested that Bisa Kdei or K.K. Fosu among other renowned acts who belong to the genre, were supposed to be honoured rather than Kuami Eugene, who emerged two years ago.

In subsequent reports, the manager of Amakye Dede, Akwesi Aboagye, came out to reveal that his artiste was forced to crown Lynx Entertainment signee Kuami Eugene.

But according to Richie, this is the not the first time Amakye Dede is crowing Kuami Eugene.

Speaking on Happy FM's 'Ayekoo After Drive' with DJ Advicer, Richie said "Amakye Dede had a concept in the UK and he invited Kuami Eugene to perform. He met Kuami at the airport and he told Eugene how he loves the highlife he is doing. When Kuami Eugene finished performing on stage, Amakye Dede called him back and said to everyone that he doesn't mind handing over the Highlife title to this boy because he thinks he is taking the Highlife to the next level".
"Then he does the same thing at the VGMA then Ghanaian cannot understand why. How!!!," he asked.

"I think someone should ask Amakye Dede or his manager because Amakye Dede did it on his own in the UK and did it again in Ghana. If he is saying Kiki Benson force him, did Kiki force him in UK as well?".

"We have to stop these kind of things because it is appalling to see a legend Amakaye Dede applauding a young brother and Ghanaians getting bitter about it. What is the problem," he fumed.

"If someone thinks another artiste should be crowned Highlife artiste, then they should crown him or her. I don't under why Ghanaians are bitter".