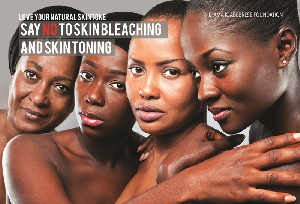 After reading a report on 'Skin Bleaching' by the former Director of Ghana Health Service Professor Agyeman Badu Akosa, and his call for an anti skin bleaching campaign to be launched.

Ama K Abebrese decided to heed to that call. She attracted the help of fellow media personalities singer and actress Paulina Oduro, actress Nana Ama McBrown and model Hamamat Montia.


Skin Bleaching is highly prevalent in Ghana and seems to be on the increase, it has over the years come to be rebranded as skin 'toning'. However skin toning is no difference from skin bleaching.


The campaign brings together these personalities with different skin tones that range from darker skinned to lighter skinned.


The aim of the campaign is to encourage Ghanaians to love their natural skin tone they were born with, and resist the practice of skin bleaching. To highlight the risks and dangers of using different chemicals, lotions pills etc that are associated with decreasing the melanin in the skin by bleaching.


To also get as many discussing the topic of skin bleaching/toning and incite debates about the issues regarding bleaching.

This campaign is not about judgment or pointing fingers as to whom has bleached or has not bleached, but about uplifting the beauty of the natural African skin and rejecting the notion that black skin in all its different shades is not beautiful.


The campaign has been launched online, and there billboards that have been mounted in various streets in Accra and Kumasi, as well as a short video that is online and on television. The campaign will go into SHS and universities.


The campaign is by Ama K. Abebrese Foundation, and is supported by DDP Outdoors Ltd, RVQ Visuals Studios, Dzidzis, The Wolfpack Life, Signature Qlass and media support from TV3, Citi FM, Daily Guide, Newsone, The Mirror and The Finder.


Join the campaign here https://www.facebook.com/ilovemynaturalskintone