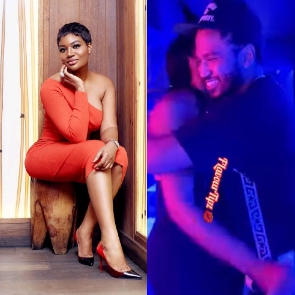 During her recent birthday trip abroad, Ghanaian lawyer and socialite, Sandra Ankobiah experienced a surprising and unforgettable moment.
As she celebrated her special day in style, an extraordinary encounter unfolded, leaving her thrilled and amazed.

In a post shared on Instagram by blogger, Flavour Tipz, Sandra exuded confidence and elegance as she radiated in a sleek black bodycon dress that accentuated her curves and showcased her impeccable fashion sense.

Amidst the festivities of her birthday trip, Sandra came face-to-face with none other than the renowned American singer, Trey Songz. Known for his soulful voice and captivating performances.

The serendipitous encounter between Sandra and Trey sparked an instant connection, transcending boundaries and cultures.

Their meeting quickly transformed into a memorable moment, as Trey approached Sandra with a warm smile and extended his arms, inviting her into a heartfelt embrace.
As they embraced, Trey wished Sandra a joyous birthday, conveying his genuine happiness for her special day.

He exuded style, sporting a trendy cap, a black graphic t-shirt, and a pair of jeans that complemented his charismatic personality.


Watch the latest episode of Nkommo Wo Ho below:




ADA/BB