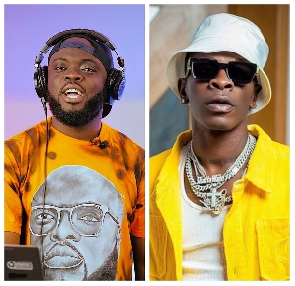 Dancehall artiste, Shatta Wale has called on the Ghana Police Service to arrest popular YouTuber, Kwadwo Sheldon over what he describes as cyberbullying.
According to the artiste, Kwadwo Sheldon who is popular for his reactions to entertainment issues is a serial bully who ought to face the law.

In a series of tirades on Twitter, Shatta Wale accused the YouTuber of becoming a nuisance to his peace and thus called on the police to act.

"Ghana police what this boy is doing on the internet is called Cyberbully and if you pretend not to see this one too then I will beat him properly so I can be arrested … GHANA POLICE KWADZO SHELDON IS DISTURBING MY PEACE … AYOOO," Shatta tweeted.

Kwadwo Sheldon recently called out Shatta Wale for attempting to undermine Sarkodie's newly released feature with reggae legend Bob Marley.

According to Shatta Wale, Sarkodie featured a "ghost." But reacting to the statement by Wale, Sheldon accused the dancehall artiste of seeking to rubbish the feat chalked by Sarkodie.
Meanwhile, Shatta Wale who seems infuriated by Sheldon's criticism has asked the YouTuber to delete all contents containing excerpts of his work from his channel.


Ghana police what this boy is doing on the internet is called Cyber bully and if you pretend not to see this one too then I will beat him properly so I can be arrested ..

GHANA POLICE KWADZO SHELDON IS DISTURBING MY PEACE … AYOOO

— SHATTA WALE (@shattawalegh) January 29, 2023
GA/SARA