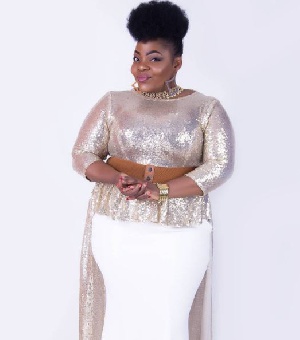 Thu, 3 May 2018 Source: Doreen Avio
Gospel artiste Celestine Donkor is of the opinion that, controversies, fame and acquisition of wealth are the only motivations for some Gospel artists.
Some gospel musicians have been in the news lately for issues rather than the propagation of the gospel. These artists have been rumoured to have engaged in acts like adultery and backbiting.

According to her, such news creates the impression that Gospel musicians are in for controversies, fame and not to minister the word through music.

Speaking on "Let's Talk Showbiz" with Doreen Avio on Joy News, Celestine stated that the trend is worrying.

"It's true, it's happening, it looks like a trend but I see it as something that has existed for long and I always say that the fact that you are a gospel artiste or branded as a gospel artiste does not mean that your mission is to reach out, no, some are seeing it as a business and an opportunity to be known, to be famous and it all balls down to you being an artiste" she said.

Celestine Donkor added that some other gospel artistes make efforts to draw negative attention to themselves, tarnishing the image of all gospel musicians.
The 'Ókronkron Hene'' hitmaker however raised concerns over tagging all gospel artists with this negativity.

"My worry is the way sometimes they box everybody is one box because we are all gospel artiste and so gospel artiste are like this and people like me or the few ones who are doing their best are also part of that category," she said.

Celestine Donkor is currently promoting her new song titled "Bigger" which features Nigerian gospel artiste Steve Crown.

She reveals it took a whole year to work and release the song.

The singer also revealed preparations for "Celestial Praiz" 2018 which will take place on the 25th of May at the Perez Dome here in Accra.
Source: Doreen Avio