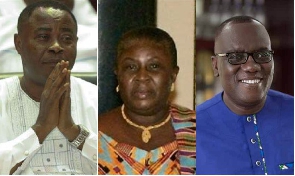 For many, the normal burial process involves being buried in a grave after a funeral.
However, as a result of wealth and importance, some individuals have been laid to rest in lavish and luxurious places that have amazed many.

The most recent is the case of former First Lady Theresa Kufuor whose burial took place over the weekend at Daaban, a suburb of Kumasi, which is the hometown of her husband, John Agyekum Kufuor.

Here are three individuals whose burial sites have generated discussions online.

1. Theresa Aba Kufuor

Former First Lady, Theresa Aba Kufuor's final journey began on November 16, 2023, with a Requiem Mass at the Christ the King Catholic Church in Accra.

A state funeral was held the following day followed by a traditional funeral at Heroes Park in Kumasi.
A private burial was held at a private residence in a suburb of the Ashanti Regional capital. It was specially built as a gift to the former president, with the donor being identified as Dr. Kweku Oteng CEO of the Angel Group of Companies.

A video shared by Angel TV showed the mansion, which was still undergoing furnishing sitting on a hilltop at Daaban.

There is a grave dug at one entrance point which was identified as the final resting place of the former first lady.



2. Reverend Anthony Boakye

The funeral of Rev. Anthony Boakye, the late founder and overseer of the Resurrection Power New Generation Church, was a major event in Ghana, with even Ghana's President Nana Addo Dankwa Akufo-Addo attending.
The funeral took place at three key venues in Accra, including Independence Square, the Accra Sports Stadium, and the Accra International Conference Centre.

In a detailed, 13-minute long video by Continent Kofi, and shared by Zionfelix on Instagram, it shows, among many other things, the state-of-the-art final resting place of Rev. Anthony Boakye.

While it is unclear the exact location of this resting place, the magnificence and beauty of the edifice that will house the final remains of the priest, caught the attention of many and generated chatter on social media.

TWI NEWS

3. Sir John

Sir John, a former General Secretary of the Ghanaian National Party (NPP), had his final funeral rites in his hometown of Sakora Wonoo on June 3, 2021.
The former lawyer and politician, officially known as Kwadwo Owusu Afriyie, died from COVID-19 complications on July 1, 2020, at Korle Bu Teaching.

His final resting place in Sakora Wonoo in the Asahnti Region according to photos sighted by GhanaWeb showed a painted walled and gated edifice looking like a 2-bedroom house with a huge picture of Sir John mounted on it.

Sir John, known in private life as Kwadwo Owusu Afriyie, was born in 1957. He was a Ghanaian lawyer and politician.



TWI NEWS

ID/ AD
Click here to follow the GhanaWeb Entertainment WhatsApp channel



Ghana's leading digital news platform, GhanaWeb, in conjunction with the Korle-Bu Teaching Hospital, is embarking on an aggressive campaign which is geared towards ensuring that parliament passes comprehensive legislation to guide organ harvesting, organ donation, and organ transplantation in the country.

You can also watch the newest episode of Nkommo Wo Ho on GhanaWeb TV below: