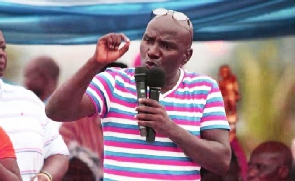 Filmmaker Socrate Safo is enraged over the incessant 'lack of support' complains by musicians and other showbiz personalities.
Many stakeholders have made headlines for chorusing that they have received no support in their journey towards successful careers. On countless occasions, they have gnashed their teeth and slammed persons they expected support from.

The film producer, who has had enough of the 'anthem' vented during a radio show on Peace FM, Saturday. Mr. Safo opined that it is imperative for persons in the arts to know that nobody owes them any form of support.

"Sometimes I get irritated when I hear artists say they're not being supported. What kind of support are you talking of? We don't owe you any support. That is the reality," he fumed with rage on Entertainment Review.

"It's about time they knew it is business they're involved in. What kind of support should we offer you? We should carry you on our shoulders to the studio, clean the microphone for you?" he jabbed.
The renowned movie maker further argued that persons who are poised to excel in showbiz, must have a capable team, strategize and execute whichever target they set for themselves without expecting any support from different quarters.

According to him, having no business acumen is tantamount to failure.

"What has been your game plan since you decided to do music? That is how they should start thinking instead of always crying for support. How do you get the DJ to get the song played? That's all part of the business. There is a game plan when you want to do business. No DJ owes you that support. They should stop trumpeting the lack of support thing," he mentioned.

"Get a good business plan, get a good consultant, get good management and you'll get there. You management can even tell you per their research, you type of music cannot sell. You don't record any kind of song and cry for help," he concluded.