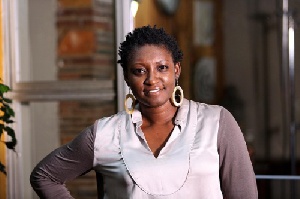 The African continent still does not seem to enjoy a favourable image in the eyes of the world, with the stories still centering more on the negatives.
Many reasons have been assigned for why this is so including our inability to tell stories from our own perspective and allowing the foreigners to set the agenda for us.

In this era of massive technological advancement, many avenues have opened up for Africans to tell their own stories.

At a dialogue organised for Ghanaian media on projecting Africans positively, filmmaker, Juliet Asante, in an interview with Viasat1 entertainment, called on her colleagues to tell the African story in a way that will position us positively in the eyes of world.

According to pretty actress, the refusal to portray our rich culture and tradition through our own movies will give way for the non Africans to tell the stories in a more negative way.

"Most importantly what we need to recognize is that we have amazing stories as a people; we have a point of view. Africa is becoming increasingly relevant and we are being recognized through the power of movies, of the arts and of the media. so we need to influence the way people think through these outlets"
Esther Armah,a media consultant who also participated in the dialogue revealed that social media is the new mode of communication and if used well, would help erase the negativity that is used to portray Africa.

"We have to be willing to engage, willing to tweet, willing to post- beyond just reacting to what is going out there. I think the media is at the other end because when we talk about social media, it is me and you and everyone else."

"It is your twitter handle, your instagram account, your facebook account; so take the power into your hands and use it wisely."

Many other participants who took part in the dialogue echoed that our movies, dance and music show who we are and there is therefore the need to tell the rest of the world the true Africa and the transformation on the continent.