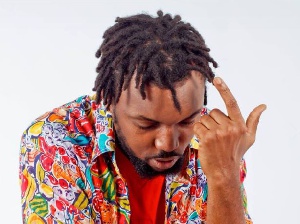 Reggae artiste, David Oscar has challenged Shatta Wale to win a BET award to buttress his claims that he's the most decorated African dancehall act.
According to him, the SM President's assertion that he is the most awarded dancehall act in Africa falls short without a BET award.

He added that, winning a BET award is the height every musician must strive to attain; anything short of that, is not enough.

The "Get There One Day" music fame who slammed followers for "hating the truth" shared his thoughts on his Facebook account few hours ago.
The post read, "SM Fans, you hate to be told the truth errs? The most awarded dancehall artiste in Africa, with zero #BET , as far as Afro dancehall goes that is the standard. So tell him to beat the standard or shut up."

A few days ago Oscar suffered at the hands of Shatta Movement when he started throwing shades at the self-acclaimed dancehall king, it is unclear why after all the insults David Oscar is still throwing shades at Shatta Wale