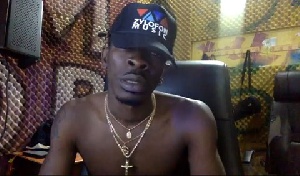 Tema-based rapper, Yaa Pono has said that Dancehall act, Shatta Wale has a bigger mouth than American rapper, Jay-Z.
Yaa Pono during a beef with Shatta Wale in February last year released a song, 'Gbee Naabu' jabbing the dancehall artiste that his lips were big.

However, Shatta Wale in a recent video that has gone viral has indicated that he is content with his "big mouth" arguing that anyone who attacks his physical appearance is cursed because such individual makes mockery of God's creation.

"You see this mouth, it is God who created it and anyone who insults this mouth has insulted God and has to apologise to God not me. I don't need any apology from anyone."
The Zylofon Music signee in the 47 minutes long video on Facebook furiously throw shades with the gospel and jab individuals he describes as haters of his success. He went to the extent of quoting scriptures in the bible to back his utterances.

He added that, he lives by the rules of the Bible and acts in the direction of God, therefore, he won't stoop so low for anyone who crosses his path in his music career.