Ablakwa writes: Government's conduct in deliberately stifling amicable resolution of KNUST imbroglio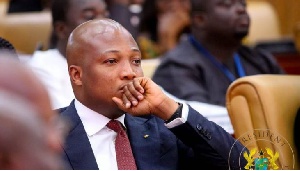 Government's conduct or shall we be more honest and call it misconduct in deliberately stifling an amicable resolution of the KNUST imbroglio only goes as far as to confirm that Government has indeed been the problem all along.
Per the road map agreed with key stakeholders after Government's abortive coup, KNUST's University Council ought to have been restored last Friday the 2nd of November, 2018. This would have given us concrete hope that by this week students could be returning to a re-opened campus. Further stalemate and more harm especially to KNUST's international image would thus have been avoided.

However, despite initial progress, the current crisis appears to be escalating - thanks to persons within the Government described by other analysts as hawks and renegades of whom it must be said are apparently fixated on making mockery and totally desecrating the principles of institutional autonomy and academic freedom.

How can Government decide who represents UTAG, TEWU, SRC, GRASAG, Convocation and other bodies on the University Council?

If Government succeeds with this, what next?

Would Government now decide who are elected as leaders/executive of these entities?
Would Government begin to determine which lecturer and or member of staff gets promoted?

Would Government henceforth control or place fetters on the kind of research permitted in our higher institutions of learning?

Would Government then determine who gets admission into KNUST and other universities for that matter?

Then to complete the sacrilegious assault on autonomy and academic freedom; would Government takeover awarding grades to students?

Yes, this may appear ridiculous on the face of it but the fact is; this is the path the Government is treading. And to be truthful, it has been on this path for a while - beginning at the Ghana Institute of Journalism, Cape Coast Polytechnic, University of Education Winneba, just before arriving at the Kwame Nkrumah University of Science and Technology.
Besides, there's enough historical evidence on the character and genealogy of Totalitarianism and Fascism - only a foothold is needed to eventually guarantee overall domination and complete annihilation if need be.

The revered Chancellor; Otumfuo Osei Tutu II, UTAG, TEWU, FUSAG, GAUA, VCG, SRC, GRASAG and all others resisting Government's misguided and dangerous maneuvers deserve our commendation and unalloyed solidarity, for truly, we are all at risk if Government succeeds.

That said, it still beats my imagination though how an unlawful action - the dissolution of the University Council, which must simply be restored and nothing more, has now become a matter of reconstitution - shocking!

Is Government considering the legal consequences of their actions and how the academic calendar could be further jeopardized if anyone brings legal action against their many iniquities?

Clearly, this Government's appetite for illegalities akin to a destructive elephant gone berserk seems to be continuing with no end in sight. The question therefore is: who shall rescue the motherland? Perhaps, the most appropriate answer is that given by Budha - "No one saves us but ourselves. No one can and no one may. We ourselves must walk the path."
May God help us.

Samuel Okudzeto Ablakwa

MP for North Tongu

Former Deputy Minister of Education