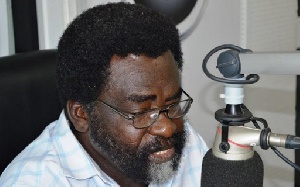 Political Science lecturer at the Kwame Nkrumah University of Science and Technology (KNUST), Dr Amakye Boateng has fired back at Dr Amoako Baah, a former Head of the History and Political Science department at KNUST over his recent comments about the institution being riddled with 'too much' partisan politics.
Dr Amoako Baah in an interview with Class FM in Accra submitted that the university is a hotbed of partisan politics at the administration, academic and student levels.

The politics, he said, has led to vindictiveness and unfair treatment of some lecturers and professors, especially those like him who are vocal and were perceived to belong to one party or the other, depending on who is running the school at what time and which party is in power at the Presidency.

Explaining why he was denied a two-year contract to continue to teach at KNUST after his retirement, Dr Amoako Baah said he was victimised for being vocal.

"If you teach at the university, at age 60, you have to go on retirement but the normal practice is that each one is given a two-year contract, somewhat automatic. I've never heard of anyone who wasn't given one if you're qualified. I was more than qualified. In my case, they didn't. They waited until school reopened the following semester and sent me the letter that unfortunately my application for a contract was not accepted.

There's too much politics there; there's still too much politics there", he insisted, adding, however: "To his credit, the present V-C apologised, he was not the one there when this happened, he apologised to me that they would make restitution", but "they haven't". The failed Chairman-aspirant of the governing New Patriotic Party (NPP) told Benjamin Akakpo on the Executive Breakfast Show on Class91.3FM on Wednesday, 27 November 2019.

Reacting to this claim on 'Pure Morning Drive' with Kwame Adinkra on Friday, November 29, Dr. Amakye Boateng advised that it will be in the best interest of Dr Amoako Baah if he stops talking about the University as there are lots of ills that characterise him and his reign as a former Head of Department (HoD).
He revealed that, Dr Amoako Baah has always been a two face figure citing a document purported to be from the then Vice-President Mahama's office which he wanted the University and the department to adopt in whole and distribute at the Senior High Schools and Junior High Schools for learning purposes in Ghana which the Political Science department rejected.

He remarked that Dr Amoako Baah's assertion that he merited an automatic contract extension to teach in the University after assuming retirement was wrong because it wasn't so and the University administration had no hand in his denial of extension.

Dr Amakye Boateng stated explicitly that it was the History and Political Science department which rejected his request for a contract extension in a unanimous decision of which he was part of the meeting.

"I was in the meeting myself. We all unanimously rejected his quest at the department level. It didn't even get to the administration level so what is he talking about?. Exclusively in our department, nobody was interested in keeping him there. He is walking even dead so it's in his best interest if he stops talking about the University," he cautioned.