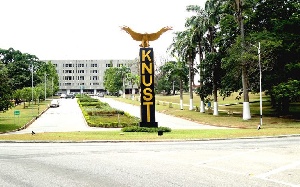 Members of the Teachers and Education Workers Union (TEWU) are demonstrating on the KNUST campus.
The workers who form the largest union on campus are angry over the delay of swearing in their nominee onto the university's new council and threatened to match into an ongoing council meeting on the campus.

According to the group, the minister refused to swear in TEWU representative Charles Arthur on to the KNUST council on November 27 this year at the minister's conference room in Accra.

A rep of the union speaking to the media said: "the union sees the ministers action to be undermining of TEWU and is breaching upon the act establishing KNUST council."

He said "KNUST members of TEWU by their letter dated 5th September 2019 nominated Mr Charles Arthur as their representative on council."
"Today Mr Charles Arthur still remains our representation on council and therefore must be sworn in today. Committee of local union executives from the ten public universities of Ghana fully and strongly support the nomination of KNUST representative. Therefore any interference from any officer from any entity will create unnecessary tension in the public universities."

Meanwhile, Ultimate FM's Ivan Heathcote Fumador reports that the KNUST Vice-Chancellor has met the union members and asked them to go and put their grievances on paper to be forwarded to the education minister who will give approval for any installation to go on."

However, sources from the education ministry reveal that the said Charles Arthur who is the outgoing chair of TEWU's candidature for contesting TEWU elections locally is being contested in court hence the reason to hold on to his swearing-in onto the Council.