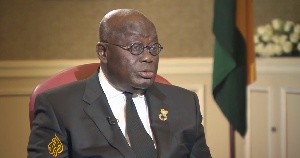 Your Excellency, I am writing you this rather desperate epistle from the Northern Regional Capital, Tamale, my home town, where I choose to hibernate waiting to be called back to school to continue with my Long Essay, after we all were asked to vacate the campus within the period of six hours following our chaotic "demolition exercise" on the Kwame Nkrumah University of Science and Technology, KNUST campus three weeks ago, with the exception of foreign students.
Your Excellency, I am not the most talkative in KNUST with this epistle, neither am I the most brilliant student nor the most concerned student.

In fact, when it comes to brilliance, I am just a mere drop in the bucket of intelligent students in that Intellectual Shrine (KNUST).

I am simply heeding to your wise counsel as a citizen, a commentator, and not a spectator as you admonished.

Hence, my loudmouth.

Mr. President, as usual, all is not well.

Just like my first open letter to you last year, in which I attempted to draw your attention to a carefully shrouded and more deodorized corruption in your then embryonic government, I wish to this time around, point to an open 'arrogance of power' displayed by the government.

A political disease (arrogance of power) that kills silently politically, which undoubtedly caused the death of the NDC government, and you should not miss the opportunity to learn from their mistake.

Mr. President, fast forward, the sudden belligerence of the government in the KNUST brouhaha has left us, and many onlookers dumfounded.

As a matter of fact, majority of Ghanaians believe your approach to the KNUST mess has made the NDC looks like a gathering of Angels and not politicians in terms of handling power.
Because, we are wondering whether government is really fighting for students interest with its inflexible stance on the dissolution of the previous council of the university that the University Teachers Association of Ghana (UTAG) has also vehemently opposed, and for which reason we are still at home, and yet time waits for no man.

Your Excellency, you are aware UTAG naturally has to protest against the decision of government because, our elders say the second wife must surely not rejoice over the beatings of the first wife, for the same beatings awaits her when the third wife arrives.

Even though it is ill-advised, if not illegal for UTAG to stage solidarity protest for the Vice Chancellor, they ought to support him because nobody knows tomorrow.

Who knows, it's Professor Obiri Danso, today whom shall it be tomorrow?

However, Mr. President I want to alert you that, UTAG and the Vice Chancellor, are definitely not going to be affected if this tearing of each other's throat between them and government continues.

We the students the government claim to be fighting for, are going to lose tremendously in the end, and your support and fight for students would have been fruitless and valueless.

But, the government would also have a portion of the disaster that keeps on staring students in the face, if this unsolicited proxy battle the government is fighting continues.

Mr President, what may happen to government to constitute its share of any eventuality that would happen if either government or UTAG fail to eat the humble pear and let go of their stance for cool heads to prevail, there is going to be no graduates next year, and the current freshmen would remain freshmen.

In that case, new entrants into KNUST next academic year won't get space. Your Free Senior high leavers cannot be enrolled either.
Mr president, true, you would have done your part educating them free of charge, but what shall it profit a man rendering his own labour useless?

This is in only KNUST perspective, your Excellency.

Now, the bombshell is this.

The UTAG strike in KNUST as you're aware, is a solidarity one locally staged to commiserate with the Vice Chancellor.

Mr. President, the danger is that UTAG is a national body as well.

If the government is tough enough to withstand the local strike by UTAG KNUST branch, it can escalate to the national level of UTAG, involving all the ten (10) universities in the country so as to torment out the devil that has come over the government with its latest recalcitrance, so that it can let go for UTAG to have its way.

If all universities are not going to admit a single Senior High leavers, it would result into a dire consequences waiting for your Free Senior High Students little later when they complete, and efforts of government would simply amount to a monumental misadventure!

The resources you denied other sectors and channeled into Free Education would have been a complete Cos90 job.

This has the tendency to expose the government for its penchant for pursuing parochial agendas to the disregard of the well-being of the masses who elected them to oversee their affair.
Again, hypocrisy on the part of government, as a self-acclaimed power-responsible, would be exposed!

Because, you accused the then government of being irresponsible with political power (arrogance of power).

Your Excellency, the worse of it all would be that, the essence of your intervention in this whole impasse of the university, again, would be defeated big time!

Because the UNIVERSITY students suddenly transfigured into vandals despite their level of education because, the university council did not listen to them and remained rigid in their decision making.

Your Excellency, if government refuses to soften its stance, just as university council couldn't let go that students rioted against, where shall we draw the line between the government and the university council?

And can't UTAG also violently hit the streets to demand what they want done since they are the teachers of these students who chose chaos over the basic ideals of university education?

In that case would Mr president also step aside for new cabinet, or even new government?

Nonetheless, if there shall be no power to ask you to step aside, shan't it cause you votes substantially for abysmal leadership as a self seeking, self-serving, and self aggrandizing merciless leader?

Of course, I am aware every democrat is not afraid of losing votes, therefore, you may care less about electoral fortunes, perhaps, with the perception of indulging in gerrymandering and rigging election, but what about having your prestige damaged globally?
Mr. President, in my candid opinion, the Chancellor should bring back the old council with the Vice Chancellor at post.

What happened was not as a result of leadership vacuum at the top but miscommunication and disinformation.

The teeth and the tongue do sometimes overstep their temperaments to the point of even fighting, but it has never been wise to evict either of them out of the mouth.

Naturally, misunderstandings must rear their ugly heads in any human enterprise, the way we handle them portrays our sense of civilization.

I, and other well meaning students, plead the old council continues.

After all, man shall not live by power alone.