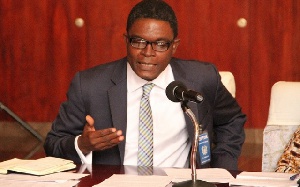 The Executive Director of the Institute for Democratic Governance (IDeG), Dr Emmanuel Akwetey, has called on all parties calling for a postponement of the December 17 referendum to stop.
According to him, though there seems to be divergent views emerging from different groups, he contends that it is characteristic of a governance system he called "democratic polarisation", and that it is okay to have divergent views.

Dr Akwetey insists that should the government and stakeholders agree to conduct this referendum next year, it will fall into a busy election year and disrupt the schedules of the Electoral Commission (EC). And should it be extended to 2021, any other reason could be given to take it further or even abrogate it from happening.

Dr. Akwetey was speaking at a public lecture in Accra yesterday, to give an update on the institute's performance on the nationwide sensitisation exercise it is carrying out, and the need to vote yes. He went on that if the nation should vote no, it would disrupt a rare opportunity given the electorate to change certain entrenched clauses that need to be updated like that of Article 55(3).

According to him, the electorate can vote and change the government when the time is due, but, a referendum, which is geared towards amending certain entrenched clauses in the Constitution, is rare, and could take a decade or more for history to repeat itself.

Though he is not in favour of a no vote, he admitted that those holding that position have equally good arguments, but, "we cannot afford to put our stability at risk."

Thus, the nation needs to work on some crucial laws which would bring her the needed change in her democracy. Therefore, after all citizens have voted (coming December 17), "we have the next three years" to make all the necessary reforms and bring the required institutions into existence to put those 'outdated' laws in good shape.
He cited an example of how Kenya almost 'exploded' because they were not able to change a law which was also in an entrenched position. The nation's failure in making the necessary changes led to chaos in the area of land acquisition until the institutions sat down to get things done right in the year 2002.

He revealed that lately, a lot of media houses, as well as public figures, have called to know his stand, and he has, on numerous occasions, made it clear that the nation is on a verge of changing "a rule" that has been in existence for a long time.

He mentioned that if "we miss" this opportunity of changing how things are done, the future is not clear on how the Constitution would be changed for the better. But, either sooner or later, the nation would resort to amending certain portions of the Constitution.

The lecture was under the theme, "The National Referendum on Article 55(3) of the 1992 Constitution: Is It Important?"

Dr. Akwetey also cautioned the public, in the sense that, the fire that had sparked as a result of debating on the referendum should be well managed, so that, "we do not lose our cordial relationship with people."

He stressed that, at the end of the day, "We are all Ghanaians."