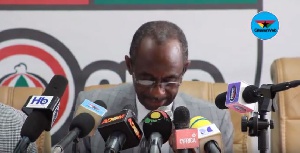 Folks! I was minding my own business thinking of how to raise money to attend all the four funerals this weekend in Kumasi, Akwapim Mampong and the two in Accra; and how to divide my GHC100 nsawa allocation between all four funerals when I was suddenly hit by an announcement by Mr. Johnson Asiedu Nketiah, also known as General Mosquito, the General Secretary of the opposition National Democratic Congress (NDC) that the filing fees for its flagbearer elections has been fixed at GHC400,000 (That is 4 BILLION OLD GHANA CEDIS) he did not end there. Additional GHC20,000 is being charged for the privilege of collecting nomination forms.
Haba! How many pages are contained in the form? What sort of paper was used to print the forms and which market in Heaven was the gold ink used to print the forms purchased from? What does the form contain that will bring developmental benefits to the ordinary suffering people of a Ghana?

By the way, does the NDC wish for money to lead the party or brains with organizational ability and the capability to change the downwards economic trend of the country with the wherewithal to improve infrastructural, social and economic needs of the General populace?

Ebei! Has the NDC forgotten so soon where it came from and where its power base is located? What does the NDC think that this wanton display of childishly crass opulence and disregard for minimum standards of decency will earn it?

Why does a flagbearer in a party internal election pay more than what the whole county's electoral Commission requires for the national Presidential elections filing fees?

Does the NDC not realize that by requiring such an unreasonably ridiculous colossal amount as filing fees, it is clearly telling Ghanaians that only a thief can lead the party?
Let's assume that all the aspirants were presidents of the republic in the last four years, it means that they would have had to save every penny of their salary while in office for the last four years to be able to meet the fee.

That is assuming they did not buy any pieto for themselves, their wives and children as well as their many girlfriends. No toothbrush for the many foreign trips and no occasional yoke gari for "fool soldiers" and party "faithfools"

How can this encourage grassroots participation in the affairs of the party or generate any interest from ordinary folks in the fortunes of the party if the National Executive Committee is sending signals that the NDC is now a party of only rich thieves in our society?

Should I waste my vote in the 2020 elections to elect an NDC flagbearer who is coming into office with already such a huge ???????????????? around his neck? When is he going to finish stealing to recoup his filing fee or give favours for all those who contributed to his filing fees before starting to think about extending the free SHS to JHS and tackle all the important issues facing us as a nation?

Even if I am disenchanted with the current NPP friends and family Government, would I have any incentive to vote for an alternative NDC administration, knowing they have to pay back filing fees first?
With the support base of the NDC being predominantly from the downtrodden in society, is this astronomical filling fee not sending the signal that the NDC has lost all credibility and all links with its roots?

Folks the time has come for those interested in the fortunes of this country to demand from all the political parties that it must take steps to ensure that all its members of average earnings can take part in all aspects of leadership roles in the various parties including its flagbearership.

For a Mosquito to set Elephant level filing fees for participation in party level elections is mind-boggling and brazenly insulting to those of us who are required to struggle to find monies to pay the new increases in trotro fares every morning to travel from Madina to Agbobloshie in order to do our menial jobs and put half a ball of kenkey with no fish but hot pepper as condiments on our dinner bench for our families.

This is where a new and dynamic leadership for the party and the country can come from. An open defiance by a true colour Ghanaian blooded led revolution and organization inside the party to fight for the spirit and soul of the party to turn its fortunes around and show to Ghanaians that he or she and the new grassroots organization is fit for purpose and means business in Ghana.

For this action alone, the NDC has lost total respect and credibility and deserves to rot in opposition forever. Unless well-meaning people within the party at all levels rise up and demand a total downgrade of filing fees to acceptable levels.
If I were an aspirant to the leadership position, I would refuse to pay and lead a massive campaign to have all members of the NEC removed from office and marched straight to the Teshie Military range for target practice.

I now know and am convinced that Ghana is fast becoming a joke. But should our leaders make it this obvious?

The NDC must repent and cancel this sick joke and give it's members a hope by ensuring that good elements in the party with good leadership and organizational skills are given the same chance to contest this leadership battle just the same way it is enabling its thieving wing to do.

WE ARE FED UP WITH FREE RANGE OPEN DEFACATION AT OUR BEACHES. PLEASE DO NOT LET US EXTEND IT TO OUR POLITICAL PARTIES TOO.

GHANA DESERVES BETTER!!!!!