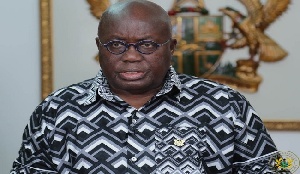 Shanice is a seventeen (17) year old girl of a Jamaican father and a Nigerian mother, born and bred in Nigeria. She has long dreadlocks just like her father. Shanice feels apprehensive, different and intimidated because she's the only one with dreadlocks among her peers. Because of this, she has always wanted to cut her hair, but she is still young and depends on her father, who will not allow her to touch her hair with a blade. She has always prayed to be independent and be beyond her father's aid so that she can make her own decisions as an adult and be able to cut her hair the way she wants it to be.
Many developing countries can be likened to little Shanice and have been dependent on developed countries and development partners for long. Some of these countries, including Ghana, have decided that it is time they adopted some strategies to generate enough resources to develop without depending on foreign aid.



Almost all African countries are globally known as developing countries and are dependent on rich countries as well as multilateral funding agencies, benevolent agencies among others to sustain themselves. These countries do not have enough capital to develop, others do not manage their resources efficiently; therefore they receive help from some donor countries and agencies. African countries cannot depend on foreign aid forever because it will never be enough to ensure their development. Rather, African countries need to embark on innovative measures to secure enough income to sustain the continent. Besides, most of the foreign aids we receive come along with unfavourable conditions, some of which include reduction of budgets and laying off of workers in the public sector. African countries and other developing countries have to think of ways to untie themselves from the 'prison of foreign aid'.

On 6th March, 2018, Ghana's 61st Independence Day, the President of the Republic of Ghana, Nana Addo Dankwa Akufo-Addo said in his speech that "the realisation of the vision of "Ghana-Beyond-Aid" (GhBA) requires a deliberate, qualitative change in all aspects of our lives; especially, in the structure of our economy, the nature of our infrastructure, the education of the young people and acquisition of skills and above all, in our attitudes and holding firm to what defines us". He added, "If there were no aid fatigue from donor countries, there will never be enough aid to develop Ghana to the level we want".


President Akufo-Addo's words have received global acclaim. Unfortunately, our elders say words cannot cook yam no matter how hot they are. So while the slogan is still ringing in our minds, a debate is raging as the president joined other African leaders on a begging trip to China last week. The debate about our bauxite deal with China worth two billion dollars will not end any time soon because many analysts believe it is a form of aid that is capable of choking Ghana.

Aid was never meant to be what would make us a developed nation. We know what to do if Ghana should develop and wriggle itself from the tight grips of aid: a strong macro economy, job creation, value addition to our raw materials, infrastructural development, digitization, education and private sector development. Basically, Ghana-beyond-aid refers to the dream of President Nana Addo Dankwa Akufo-Addo, who aspires to see a Ghana with a strong economy, higher standard of living among Ghanaians, good infrastructure, a more consolidated democracy and a Ghana that will need very little or no aid from other countries.



In order for Ghana to achieve President Akufo-Addo's vision of Ghana-beyond-aid, the government must embark on some specific innovative, systematic and purposeful strategies.

The alarming rate of unemployment must be resolved to include the large numbers of unemployed citizens in the economic development agenda. Successive governments have always promised citizens jobs, but a high percentage of Ghana's youth still remains unemployed. In addition, the government must also stimulate the private sector for it to flourish and create more jobs to citizens. The slow pace of Ghana's real (non-oil) economic growth is a key reason for the inability of successive governments to solve the unemployment crisis in Ghana. An enhanced commitment on the part of government and all stakeholders in the development of relevant technical and vocational skills to meet the needs of all aspects of the job market will be crucial to move Ghana beyond aid.
Ghana must stop exporting raw materials to other countries. We must cultivate the practice of adding value to the resources we export rather than selling them in their raw state. Ghana is lucky enough to be endowed with natural resources such as gold, cocoa, timber, silver, bauxite and manganese.

Ghana is said to be the second largest exporters of cocoa, but is one of the least earners from the global cocoa industry. The cocoa market worth is about $2.1 billion and chocolate market worth is $131.7 billion. Statistics show that Africa (mainly Ghana and Cote d'Ivoire) produces about 75% of the world's cocoa but earns 2% per $1 billion of chocolate income. We must focus more on exporting more chocolate than raw cocoa. Because we have remained suppliers of raw materials, we continue to suffer the exploitation of importers of our raw materials, the buyers who dictate the prices at the same time.

In addition, promoting and consuming what we produce will be a major step towards achieving the core objectives of Ghana-Beyond-Aid. We will struggle to make progress if our imports exceed our exports with significant trade deficits. Politicians, public/civil servants and most professionals hate to wear locally manufactured fabrics. With the exception of a few, notably the President of the Republic current Minister for Trade and Industry, Mr. Alan Kwadwo Kyeremanten, and the former Minister for Trade and Industry, Dr. Ekwow Spio-Garbrah, most of our politicians, Ministers of State and Members of Parliament are happy to wear and promote the use of foreign fabrics and shamefully hide behind slogans such as "eat what we grow". We need to really eat what we grow and wear what we sew in ordr to lift Ghana beyond aid.

Ghana, as a country ought to embark on an industrial revolution of its own. With the abundance of raw materials in the country, more factories and industries must be built to process them. Import Substitution Industries must be built to reduce importation of foreign goods in order to enhance domestic production. The nation's revenue and resources should be invested in creating industries to process our raw materials. By doing this, it will reduce our dependency on foreign goods. In order to achieve this, government promised citizens 'One District One Factory'. Ghanaians are expecting not to be disappointed because the factories will not only produce goods, but create more employment to the youth.

The government is obligated to meet the physical and social infrastructural needs of citizens. Good roads, strong bridges, potable drinking water, constant electricity supply, decent hospitals, decent schools and housing are the necessary desires of many Ghanaians around the country that are yet to be met. The president said in his Independence Day speech, "My government is going to implement an alternative financing model to leverage our bauxite resources, in particular to finance our major infrastructure programme across Ghana. This will probably be the largest infrastructural programme in Ghana's history without any addition to Ghana's debt stock."
Furthermore, government must be dedicated to supporting the private sector. The private sector is an important contributor to Ghana's economy. Apart from revenue from the private sector and it is a huge source of employment to Ghanaians. The private sector should be promoted in order to help Ghana move beyond aid. The government and the private sector should be great economic allies in order to help develop the country. Government must make it easy for the private sector to invest in the productive aspects of the economy by creating a business-friendly environment.

Education is an important factor to help Ghana develop beyond aid. The president assured Ghanaians that his government would create a great influence on the educational sector. This is because the young ones should have a strong foundation for their future. The government started this by initiating the free senior high school programme, which has led to massive enrolment of 424,092 (in excess of about 90,000) students in the senior high school for free. "These are our future scientists, engineers, modern farmers, innovators, entrepreneurs and transformation agents" said the president in his speech during the 61st independence anniversary of Ghana. Aside academics, it is important to invest in extra curricula activities like art, cadet, music, dance and some sporting activities. Providing quality education to the youth will equip them to become responsible, good citizens and competent leaders in future.

Agriculture is said to be the mainstay of Ghana's economy, employing more people than any other sector of the economy. Yet, its contribution to national growth is insignificant as compared to other key sectors. Roads leading to our farms are bad. Irrigation facilities still remain a remote dream for many farmers while Ghanaian farmers still use archaic tools in their farms. Ghanaian farmers also lack adequate storage facilities to store their farm produce. Decades ago, Asian and Latin American countries embarked on green revolutions, making them maximize the production of commercial and food crops. Ghanaian farmers work on large acres of farm land, but produce lesser goods. Thus, grain per hectare is very low in Ghana (1,842kg per hectare) as compared to the global average (3,966kg per hectare). In order to lift Ghana beyond aid, farmers should be assisted to use appropriate techniques in farming, create reliable water sources for irrigation and use good and healthy fertilizers. Government should also help construct good roads leading to our major farms and provide sufficient storage facilities for farmers.

Finally, in order to lift Ghana beyond aid, corruption in the country must be faught with seriousness. Corruption in Ghana is a major threat to national growth and development. It is estimated that Ghana loses over US$ 3 billion annually through corruption. Ghana's revenue should be spent in developing the country and not wasted or stolen by politicians and senior public servants. The creation of the Office of the Special Prosecutor (OSP) is a good omen but more commitment is needed from all state agencies to weaken corruption. This will help make Ghana's revenue safe from looters and keep us from begging and being at the mercy of the Bretton Woods Institutions.

Some citizens believe that the President's dream of Ghana-Beyond-Aid will become a reality in a few years. Others also think that it is a usual political mantra to make Ghanaians interested in the current government. However, government must take it seriously and capitalise on the resources we have to make it a reality. It is time to look within for the resources needed to propel our growth. In addition, national budgets should be planned effectively, which will exclude unnecessary plans to minimise wastage of national income.
To conclude, the president's vision of Ghana-Beyond-Aid might sound like a pie in the sky, but with citizen-government collaboration and commitment as well as the right attitude and practices, this dream can be achieved in a few decades. This will help reduce Ghana's dependency on foreign countries and agencies, which has been the case since independence. Ghana has been blessed with abundance of natural resources. In order to develop, Ghana should exploit and manage these resources efficiently and effectively to the benefit of each and every Ghanaian.