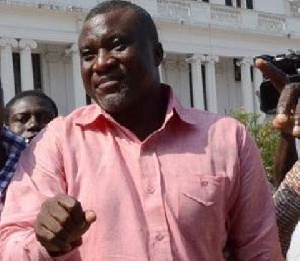 Wed, 1 Jul 2020 Source: GNA
Mr Hopeson Adorye, New Patriotic Party's (NPP) parliamentary candidate for Kpone-Katamanso, has called on all eligible voters in the area to participate in the ongoing voter's registration exercise.
Mr Adorye made the call in an interview with the Ghana News Agency after a public reception with the residents of Shangai, a suburb of Kpone in the Greater Accra Region.

He said the registration exercise was a means through which citizens could exercise their voting right in the upcoming December presidential and parliamentary elections.

He gave the assurance that as part of measures to prevent the spread of the COVID-19 during the exercise, every registration centre had been provided with hand washing sets, alcohol-based hand sanitizers while all prospective voters were also required to wear nose masks and observe social distancing.

The parliamentary candidate added that it was important for everybody in the Kpone-Kantamanso to recognize their civic responsibility to register and vote to renew the mandate of President Nana Addo Dankwa Akufo-Addo and the governing party on December 7.

He reminded them that as part of requirement for registration, eligible voters would have to show proof of citizenship with either the Ghana Card or Ghana passport adding that those who did not possess any of the documents could rely on two guarantors who had already registered as voters to vouch for them.
He advised residents against massing up at one registration centre explaining that the exercise was being carried out in batches and every centre would have its turn, therefore, there was no need to rush to register at the centres that had been opened in the first phase.

"The registration exercise would not be conducted in all centres at the same time, it will be in batches and there is a movement plan so it is important that everybody follows the plan so as not to move from one constituency to the other to acquire the voter Identification Card," he said.




Source: GNA