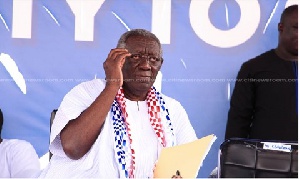 A change in behavioural pattern is inevitable when there is a convoluted interplay of human experience.
Former President John Agyekum Kufuor [JAK] must be commended for euphemistically cueing Akufo-Addo led administration on personal egos and discriminatory tactics.

Intraparty and interparty discriminations are rebuke to nationalism and patriotism.

JAK again succeeded by carving out a niche for himself not only as a venerable statesman but also as a man of impressive insight and philosophical erudition.

Sidling to the trough of Lord Acton's famous dictum: "Power tends to corrupt and absolute power corrupts absolutely" JAK, during New Patriotic Party delegates conference in Koforiduachided his political party leaders to eschew personal egos, for power is tricky. (Source: GHANAWEB.COM, Sunday July 8, 2018).

Here are the reasons why this writer agrees with JAK that personal egos, interparty and intraparty discriminatory tactics could derail President Akufu-Addo's good intentions. What is a personal ego then?

Without further ado, let me elucidate the meaning of ego from psychological perspectives and provide the background to president's ego development.

Every sentient creature has an ego.

In 1923, the Jewish psychiatrist and the standard bearer of psychoanalysis, Sigmund Freud argued that human psyche [mind] is divided into three main sections namely: the ID, EGO and SUPEREGO.

It is worthy of noting that these are inherent systems of personality bereft of physicality and not part of the brain. The ID is basically our drives or instincts, the EGO is reality and SUPEREGO centres on morality. The EGO appears to link the unconscious/unrealistic ID with the external real world.
The EGO is a decision-making part of the personality. Unlike ID, The EGO works by reason and operates in accordance with reality principles. These realities include family constellation and psychological birth order.

Family constellation is a process in which individual belongs and is knitted in relationship with other members of the family [Alfred Adler].

Psychological birth order referencing how one perceives his/her position in the family of origin affects individual's thinking processes. There is no gainsaying that I have no scintilla of intentions to disrespect my president!



President Akufo-Addo was born into a political lineage which is perceived to have had a raw deal with Ghana's first and selfless president Kwame Nkrumah.

Akufo-Addo's biological father, Edward Akufo-Addo was a member of the big six and the ceremonial head of state under the K. A Busia's progress party [PP] government.

His relatives Joseph Kwame Kyeretwie Boakye Danquah and William Ofori Attawere among the founding fathers of United Gold Coast Convention (UGCC), the first political party in Gold Coast.

Unlike the intrepid and undaunted Nkrumah whom until the formation of Convention Peoples Party [CPP] in 1949 was a member of UGCC, Danquah and his peers were cowards [Hahahaha]!

The so-called Bond of 1844 ended in 1944. The colonial authority had master-minded disappearance of Kwadwo Thompson, a local Fanti guy who asked for independence after the expiration of the So-called Bond of 1844. Thompson's incident was destined to petrify the would-be leadership of UGCC.
For the fear of their lives, they did not only choose to engage in part-time politics, but equally demanded self-government in a shortest possible time! Only heaven knows how they measured their shortest possible time! Danquah and his peers were also frightened by the outcome of the 1948 riots.

The leaders of UGCC were arrested and detained after the aforesaid socio-political unrest in Gold Coast. The death of Corporal Attipoe, Sergeant Adjertey and Private Odartey Lamptey after Christiansburg Crossroads shooting incidents equally triggered the anxieties of the leadership of the big six, aside Nkrumah.

Nkrumah's minted CPP, owing to its mass support based gathered a great deal of momentum. The image of the UGCC was quickly sinking into oblivion, the greatest effect CPP! On 8th January 1950, the political situation in the Gold Coast reportedly boiled to its limit that demonstration was inevitable.Positive action was staged. Nkrumah was imprisoned.

To borrow the worlds of Joseph Hills of reggae music fame, and 'he was released from prison and took the seat of' a leader of government business upon CPP's victory in 1951 election. Gold Coast attained internal self-government in 1951.



One issue which slowed down Ghana's independence was the Ewe question! The Ewe Question centred on whether the Trans-Volta Togoland[some part of modern Volta Region of Ghana] was to join independent Ghana or independent Togo.

Per Nkrumah's tenacity, astuteness and diplomatic brinkmanship, Ewe question was resolved through a plebiscite in 1956. Sylvanus Olympio of Togo described Nkrumah as an African imperialist. Baffour Osei Akoto also formed National Liberation Movement [NLM] in 1954, albeit, the 1951 internal self-government.

Dear reader, how could a group of people liberate themselves from a political struggle and claimed to be part of that course? Space and time will not permit me to offer a historical rendition of Ghana's independence and Nkrumah's role.

On March 6, 1957, Ghana under the auspices of Nkrumah attained Independence from the Great Britain. Most members of Nkrumah's opposition parties became compradors and saboteurs! My president's relative Danquah became a victim of Preventive Detention Act passed in 1958.
Danquah died in detention. This was very unfortunate! These were the family constellation and psychological birth order covertly interfering with the president's ego! From the outset of his administration, he appeared to be thinking about reversing Nkrumah's legacy.



This was manifested during his maiden independence's day speech when he deliberately consigned the role of Nkrumah in Ghana's emancipation struggle into an abyss of decay!

Another reason is the needless desire and pledge to create a tribal region.

On April 20, 2017, MYJOYONLINE.COM quoted the president as saying, "The time for the creation of the Ahafo region is due. I promise you that within the next 18 months, the opportunity is going to be given for you to have the Ahafo region."

This is because Ahafo was added to the Bono by Nkrumah! Why is the president not separating Akyims from Kwahu or Akwapim from the Krobos in his own region? The populations of Brong Ahafo and eastern regions are almost the same! Why not a federation then? There is an interesting synergy between presidency and some intellectuals to discredit Nkrumah's legacy.

For example, on January 10, 2018, Professor Mike Oquaye intimated in an article that Ghanaians must celebrate the 4th Republic's as Public Holiday not first republic.



Is it not risible for the speaker of parliament in spite of his lofty professoriate would stoop so low for partisan exigencies? Is professor Oquaye telling us that a birthday of a child changes after a car accident? Military takeovers were mere democratic challenges.
There is only one Republic Day which was a farewell to colonial administration. My respected political science professor, kindly coach your expatriate friends on that!

The observance of first republic as a statutory holiday is not peculiar to Ghana.

In Brazil, for example, every November 15 is observed as a Republic Day. This day is celebrated to commemorate 1889 overthrow of Emperor, Don Pedro II by field Marshall Deodoro da Fonseca. Brazil had been subjected to military takeover since then.

There is a phrase in Brazilian history known as "the Republic of 1946" yet November 15, is celebrated as a republic day in Brazil! Professor Oquaye and the president are very fixated on making Nkrumah's legacy unpopular and if that is not checked, it could affect their good intentions!

President Akufo-Addo has introduced some good interventions such as clamping down on illegal mining, implementation of Free Senior High School program, reduction of electricity tariffs and electric power stabilization [credit must also go to president Mahama].

Having three relatives in the big Six inadvertently nurtured his family-centred leadership style. I admire the president's ability to hire and fire [excluding the removal of EC Bosses]!

Nevertheless, the Ego to fight against Nkrumah's legacy willy-nilly and, to perceive one family/tribe as above others could derail his good intentions! Good intentions have wonderful beginning but at times horrible ends. Mr. President, I am just being a citizen, not a spectator! God bless you JAK! God bless Our Homeland Ghana!