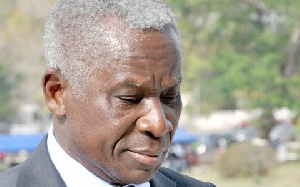 Former National Security Coordinator Brigadier General Joseph Nunoo-Mensah has revealed that were he to be president, he would have committed murder in the incident at the Abelenkpe branch of Marwako Fast Food where Evelyn Boakye, a Ghanaian worker there, had her face dipped into pepper paste by her Lebanese supervisor Jihad Chaaban.
Evelyn alleged that Jihad forcefully dipped her face into a paste of pepper she had blended at the restaurant with the excuse that she was destroying the eatery's blender.

She also said Jihad had her locked up in seclusion for several hours and threatened to sack any staff that blew the lid on him. The Accra Regional Police Command is currently investigating the matter.

Meanwhile, Mr Chaaban has apologised to Evelyn, saying: "I wish personally to sincerely apologise to you for the incident on the night of 26 February 2017 at our Abelenkpe place of work.
"True to God, all I sought to do was to point you to something I found wrong. I admit I was angry a bit at the moment and saw you panic and accidentally resulting in the pepper splashing onto your face."

Commenting on the matter on Ghana Yensom hosted by Chief Jerry Forson on Accra100.5FM on Monday 6 March, Brigadier Nunoo-Mensah said: "If I were the one in charge of the state when this happened, I would have killed somebody. I mean it, I would have killed somebody. How can this happen to anybody at all? When you listen to the story you realise that this is not the first time it has happened in the same company.

"It should never have happened. Just because of a few cedis you want to kill somebody's daughter. This is happening in Ghana because we have allowed ourselves to be treated like that. It could not have happened a few years ago when I was starting my life in Nkrumah's Ghana, it could never had happened. I have lived in several countries. I was in Britain for 10 years, even there I would deal with the police officer because I knew my rights; you can't do this to me."