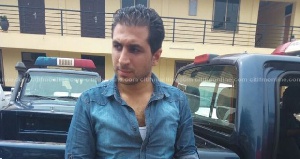 The High Court has rejected a bail application by the Abelemkpe Branch Manager of Mawarko Restaurant, Jihad Chabaan, who was jailed nine months on August 2. He was found guilty by the Abeka District Court of assault and causing harm to one Evelyn Boakye a caterer at the restaurant.
On August 9 an application for bail pending appeal was filed at the High Court. The motion was moved and the court heard the legal arguments of both the state attorney Adama Watkins and counsel for Jihad, Julio De Medeiros.

Jihad's counsel argued there is the possibility of his client serving the full sentence before the appeal will end, citing the case of Dan Agbodakpi versus the republic where bail was granted even though the sentence was for two years. State Attorney Adama Watkins also argued the appeal had a little chance of success hence no need to grant bail, TV3's Selorm Amenyah reported.

Delivering the judgment on Wednesday, Justice Edward Ekow Baiden was of the view the counsel for Jihad Chabaan could not demonstrate that the appeal had a chance of success adding that the court cannot be persuaded by the mere assertion that the applicant might serve all the sentence before the conclusion of the appeal process.
He added that the counsel for Jihad could not also provide enough documents to show it has begun the appeal process and went ahead to dismissed the application describing it as unmeritorious.

Counsel for Jihad Chabaan was however instructed to appeal the ruling at the District Court.