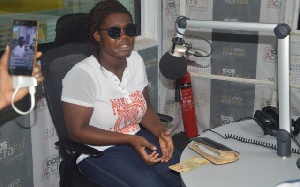 Dr Matilda Adda, head of the Eye Clinic at the Achimota Hospital, has told the Abeka District Court that Evelyn Boakye, the victim of the Markwako pepper incident, is suffering from trauma conjunctivitis.
Conjunctivitis is an eye condition involving the inflammation of the conjunctiva – the semi-transparent membrane that covers the white part of the eye (the sclera) and lines the inside of the eyelids. When inflamed, the conjunctiva appears red and discharges.

Evelyn Boakye's face was allegedly dipped in pepper paste by her supervisor, Jihad Chaaban, who was later arrested and arraigned over the incident.

Dr Adda, the optometrist who attended to Ms Boakye after the incident, testifying in court on Wednesday April 19 mentioned that the victim was suffering from trauma conjunctivitis, a situation that made it unable for her to see clearly in sunlight, Accra News' Ama Brako Ampofo reported.
The doctor further told the court that the medication given to Evelyn had worsened her eye condition.

Ms Guansah subsequently adjourned the case to Wednesday April 26.