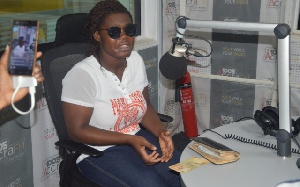 The medical doctor at the Achimota Hospital, Matilda Madiwa Adda who examined the victim of the alleged pepper attack by the branch manager of Marwako restaurant, said the lady reported at her facility traumatised.
Dr. Matilda Adda was in court on Wednesday to testify on the report she issued after examining Evelyn Boakye.

She told the court that the victim suffered from an inflammation on the white part of her eyes when she was examined. Her eyes were dried, the doctor said, and therefore advised the victim to wear sunglasses until her condition normalizes.

During cross-examination by the lead counsel for the accused, Julio de Medeiros, Dr. Adda confirmed that the condition suffered by the victim could be caused by pepper but it is not only limited to it.
She added that the eye infection suffered by the victim could not have been caused by a mere rubbing of the eye. An external element would have to make contact with eye before one can suffer such an inflammation, she emphasised.

Meanwhile, lawyers of the accused Jihad Chabaan after the cross examination indicated that they will file a submission of no case. The case has been adjourned to 26th of April 2017 for the defence lawyers to make an oral submission of their submission of no case application.

Jihad Chabaan is alleged to have dipped the face of Evelyn Boakye, a caterer at the restaurant, into a blended pepper and locked her up for hours. He had pleaded not guilty to three counts of assault, offensive conduct and causing harm.