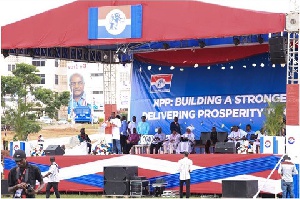 I now know NPP has become a party for the highest bidder, yes, a party in which people with CASH and CARS call the shots.
Yes, Freddie Blay, a recent convert from CPP, sits atop NPP today because he had donated 36 vehicles to the party during the last general election; that's the main argument of Mr Blay's supporters.

The argument is surprising as is Mr Blay's meteoric rise within NPP.

Yes, I'm surprised because NPP's age-long tradition and practice seem to suggest that the party of J.B. Danquah and K.A. Busia and S.D. Dombo acknowledge and elevate its members largely on the basis of long years of loyalty and dedicated service.

That, yes, has been the party's story and history!

As far as l can tell, all the folks who had chaired the party as well as folks who had led the party into national elections, since 1992, had been folks with deep roots in that political family, roots that go back in time.
So, historically, NPP has been known to value long-standing loyalty and service.



It's obviously for this reason that the party opted for Nana Akufo-Addo over sitting Vice-President, Aliu Mahama in 2008.

Even after eight years in office as vice to a president (J.A. Kufuor) deemed to have performed so well, there were still many in the NPP who saw Alhaji Aliu Mahama as a relatively new entrant and therefore did not deserve the party's presidential ticket.

In fact, if Akufo-Addo is president today, it's principally because of his pedigree, I mean, it's because his decades-long loyalty and service to the party were acknowledged.
It's at once strange and surprising to me that President Akufo-Addo who had benefitted from a time-honoured party norm could help farm out his party's most pricey jewel (National Chair) to a newcomer.

And listen! it's just not strange and surprising, but it reeks of hypocrisy and double standard that could potentially undermine morale among loyal, conservative members of the party.