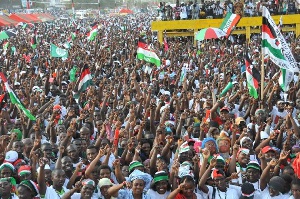 A few days to Ghana's Mid-Year Budget Review, the inveterate NDC propagandists were up in arms squalling on the rooftop and propagating their usual propaganda that the Finance Minister was going to increase the VAT from 17.5% to 21.5%.
However, it turned out to be the usual propagandists' misinformation metastasizing. The Finance Minister did not venture to increase the VAT.

Apparently, sources have it that the economic team of the NDC collated their policy information from the social media. How bizarre?

Consequently, during the tuneful Mid-Year Budget delivery, the Finance Minister counselled the NDC's economic experts to be circumspect and desist from taking economic advice from social media (See: Stop taking economic policy directions from social media- Finance Minister; ghanaweb.com, 19/07/2018).

It is, indeed, baffling that the NDC apparatchiks are refusing to accept the fact that discerning Ghanaians are now well aware of their propagandistic gimmicks.

What propagandistic tactics didn't the NDC clamorous communicators deploy during the 2016 electioneering campaign?

Yet discerning Ghanaians brushed their gimmicks aside and voted massively for Akufo-Addo and the NPP.
Despite all their efforts, the vociferous communicators failed to hoodwink unsuspecting electorates with the NDC's non-existent infrastructural achievements via a symbolic communist green book.

Back then, some observers contended that the NDC's infrastructural garble was in line with Hitler's observation on propaganda.

Hitler observed: "With the help of a skilful and continuous application of propaganda, it is possible to make the people conceive even of heaven as hell" (Adolf Hitler).

It is absolutely true that the NDC was founded on communist ideals. Thus the party thrives on vile propaganda.

It is, therefore, worth mentioning that the founders of the NDC, who gleefully staged a series of coup d'états, rather chose communist approach to ensuring sanity to the system, hence exterminating innocent people without any provocation whatsoever.

Apparently, some schools of thought contend that coup makers take their inspirations from communism.Take, for example, in their hasty and fiendish attempt to get rid of the alleged sleazes and corruption back then, the NDC founders resorted to propaganda, and, many innocent Ghanaians were unjustifiably murdered or tortured mercilessly for apparent minimal offences.
Regrettably, through vile propaganda, market women were stripped naked in broad daylight and whipped mercilessly for allegedly hauling their products or selling on high prices.

While their male counterparts were barbarically shaved with broken bottles and whipped for offences that would not even warrant a Police caution in a civilized society.

As if that was not enough, their sheer propaganda led to the barbaric murder of three eminent high court judges and a prominent retired army officer on 30th June 1982 for carrying out their constitutionally mandated duties.

When the communist enthusiasts' founders of the NDC burst onto the scene, they exhibited their propagandistic gimmicks and callously murdered people with more than two cars.

And, through propaganda, the NDC founders shamefully exhibited their communist ideals by going into war with business men and women in the country.

Ironically, the NDC founders resorted to sheer propaganda and replaced our educational system with that of a communist model.
Hypocritically, however, after messing up our educational system, they turned around and sent their children abroad to study in what they saw as a superior educational system.

Clearly, the NDC faithful have a penchant for resorting to disinformation metastasising, or to put it euphemistically, systematic propagation of propaganda.

It is, however, worthnoting that the meaning of propaganda traces its roots to the "Sacra Congregatio de Propaganda Fide"- a committee of Cardinals founded in 1622 by Pope Gregory XV to oversee the spread of Catholicism abroad, by any means necessary".

Consequently, the word propaganda came to mean the concerted effort to spread any belief the communist Propagandists are associated with. Therefore propaganda is regarded as "a deliberate attempt to alter or maintain a balance of power that is advantageous to the communists".

Propaganda may also be defined in its most neutral and simple sense as "the persuasive dissemination of particular ideas or material disseminated by the advocates or opponents of a doctrine or cause".

In other words, "propagandism" is the systematic propagation of a doctrine or information reflecting the views and interests of those propagating such information or doctrine.
Moreover, the experts contend that a message can be classified as propaganda if it "suggests something negative and dishonest".

In sum, we will beseech the NPP government to ignore the propagandists desperation to reclaim power and continue the good work that will positively transform the lives of Ghanaians.

K. Badu, UK.

k.badu2011@gmail.com