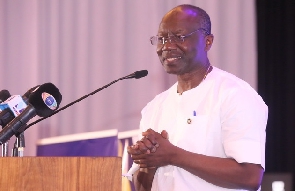 Finance Minister, Ken Ofori-Atta is expected to present the mid-year budget review and supplementary estimates for the financial year next month.
According to Parliament's Majority Leader, Osei Kyei Mensah-Bonsu, the Finance Minister will use the opportunity to explain how the government intends to replenish advances it took from the contingency fund and the stabilisation fund due to the COVID-19 pandemic, which has affected the economy badly.

In April, Parliament granted a request by government to withdraw an amount of GH¢1.2bn, equivalent to US$219m, from the contingency fund to finance the Coronavirus Alleviation Programme (CAP).

Government also received a US$1bn rapid credit facility from the IMF, part of which is being used to provide an electricity relief package for Ghanaians. The rest will go into supporting the 2020 budget.

Addressing the press at Parliament on Thursday, the Majority Leader added that the minister will also use the opportunity to explain how the government intends to pay back the GH¢10bn it borrowed from the Bank of Ghana (BoG) to help deal with the impact of the COVID-19 pandemic.
Some of the issues the finance minister is expected to update lawmakers on include successful implementation of reforms introduced by the government in the banking sector, post-recovery plans in the education sector, health matters, maintaining fiscal discipline ahead of the December general elections, and stabilising the economy and mitigating the impact of the coronavirus on businesses.

The country's economy grew 4.9 percent year-on-year in the first quarter of 2020 compared with 6.7 percent in the same period last year, according to provisional data from the state statistics service.

Ghana has had one of sub-Saharan Africa's fastest-growing economies in recent years, but the central bank last month downgraded its 2020 growth forecast to between 2 percent and 2.5 percent, from an earlier expectation of 6.8 percent, due to the impact of the coronavirus pandemic.

The economy grew 6.5 percent in 2019.