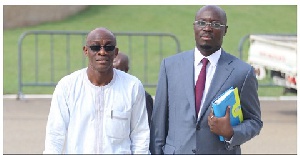 Former Finance Minister Seth Terkper, has predicted that the government of President Nana Addo Dankwa Akufo-Addo is likely to overspend its budget in this year which happens to be an election year.
His comment come in spite of assurances given by the Minister of Finance Ken Ofori-Atta that the NPP-led administration will not overspend its budget in the election.

According to him, the government has put in place measures to ensure that it stays within the budget.

Presenting the 2020 budget to parliament Wednesday, Mr Ofori Atta the government will be cautious of its expenditure despite the elections.

"2020 is an election year. I will like to take this opportunity to inform this August House on behalf of the President that all the needed resources required shall be marshalled for the Electoral Commission to ensure that we have a free credible and fair election. Ghana remains one of the most peaceful elections in the world and we intend to maintain it."

The finance minister stressed 2018 has been good for the country.
"This is the year that one can confidently say that God's blessings of the hard work is beginning to manifest, putting us on a positive trajectory for sustained lift," Mr Ofori-Atta said on Wednesday when he presented the 2020 Budget to Parliament.

He continued: "I say so because we have won some painful but necessary battles for God and country. We have stabilised the microeconomic turbulence that was all too regular a feature in the management of the national economy. We have delivered on our flagship programme. The Gains made so far are significant and it is indeed to the glory of God," he said.

But Mr Terkper said that the government is already heading towards overspending the budget.

He told Accra-based Starr FM that : "The deficit projected by the IMF at the end of this year is higher than 2016.

"It is supposed to show fiscal discipline and restriction and it is already higher above the 5 per cent and indeed higher than the 6.3 which the NDC left behind so I urge analysts to have a look at this again."