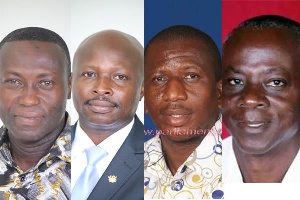 Are Ghanaians hypocrites or they just give blind support to people even when they are at fault? I've been saddened by how some Ghanaians including senior state officials in Parliament, government, opposition parties, and sadly some journalists, radio hosts and commentators have treated the British High Commissioner in Ghana, HE Jon Benjamin, in the last two or so weeks.
We have a bunch of people who call themselves "Honourables." Even when they have lost their seats in parliament they would still want us to call them honourables, a title which is meant to be used among themselves only in the House of Parliament. Yet some of these people are committing crimes some of us ordinary citizens would not commit, and still we turn a blind eye on their crimes and begin to insult a foreign diplomat who is only doing the job he was assigned to do.

British authorities have cited three Ghanaian sitting members of parliament and a former member of parliament for alleged visa fraud by reportedly having used their diplomatic passports and their personal influences to apply for visas for some persons who travelled to the United Kingdom (UK) and overstayed their visits.

Richard Acheampong, NDC MP for Bia East in the Western Region, who according to Parliament's record is a Christian and a member of the Assemblies of God Church; Joseph Benhazin Dahah, NPP MP for Asutifi North in the Brong Ahafo Region, who is a Christian (denomination undisclosed); Johnson Kwaku Adu, NPP MP for Ahafo Ano South West, in the Ashanti Region, who is a Christian and a member of the Church of Pentecost; and George Boakye, former NPP MP for Asunafo South in the Brong Ahafo Region, who is a Christian and a member of the Catholic Church, have been cited as using their diplomatic passports and influences to acquire visas for people who either overstayed or never left the UK.

So, all these men are Christians, who arguably in consonance with the usual reverence for "big people in society". are treated with huge respect in their churches, and as usual, given the front pews in church, and yet they could not stay away from doing what criminals do. God have mercy on us all!

The British High Commission in Ghana in a correspondence to the Speaker of Parliament, Prof. Aaron Mike Ocquaye, said the Commission considers the MPs' actions completely unacceptable because in some cases, their behaviours "may arguably be criminal in nature."
It added that given what has transpired, the High Commission "will henceforth only entertain and prioritise requests for visas from MPs, if they are made through the parliamentary protocol office who should verify that there is an official, parliamentary reason for the proposed visit."

Can anybody, including the MPs who are crucifying Jon Benjamin tell me if this procedure should not be the right one. Should it not be the duty of Parliament to officially apply for visas for MPs who are travelling for official parliamentary duties?

The four men have, according to the letter to the Speaker, been banned from entering the UK for 10 years.

This letter which the High Commissioner wrote to the Speaker is said to have been leaked to the public. Who leaked it, is not said, yet almost everybody is accusing the British High Commissioner, Jon Benjamin, as having leaked his own letter. It sounds illogical to me, as we have evidence that confidential correspondence or issues in Parliament have in the past been leaked. Was Jon Benjamin the one who leaked those ones too?

I heard a very childish argument by some respected people saying that the High Commissioner copied his letter to other diplomats. What is wrong about an Ambassador or High Commissioner alerting their colleagues about an issue which they are all fighting against – visa fraud? Will Jon Benjamin have written any letter if the MPs did not abuse the courtesies accorded them by his diplomatic mission, because of the state positions they occupy?
Jon Benjamin, the British High Commissioner in Ghana, is in Ghana solely to represent and protect British national and British interests (something some of our own missions abroad don't do) and not Ghanaian interests.

Some of our members of parliament used some misrepresentations to acquire UK visas for their relatives and cronies. These people enter the UK then overstay their visas. The British Foreign Office raises concern and the British Government's official representative in Ghana writes a confidential letter to the Speaker of Parliament accusing the MPs of using fraudulent means to acquire visas; and surprisingly Ghanaians are lambasting Jon Benjamin left and right just for doing his work but not saying anything to the MPs involved in this crime. Pity!

Even senior members of Parliament, some of whom are respected lawyers in Ghana and who should have known better, are insulting the High Commissioner. Who can tell me that people in parliament cannot leak a confidential letter from the British High Commissioner? Even some of the MPs leak information to the media, especially when the issue is to help them score political points against their opponents.

Our arsenals should rather be directed at the corrupt MPs who used tricks, fraudulent means, and misrepresentations to acquire visas and not Jon Benjamin.

Why are our MPs and other people in authority blaming HE Jon Benjamin? Is it because he wrote to the Speaker of Parliament? Is it because the British Government had banned the four MPs from entering the UK for 10 years, an action Jon has no power to change? Are those blaming him for leaking his confidential letter sure of that, and they have the evidence to proof that it was Jon Benjamin who leaked his letter to them.
Jon Benjamin has been one diplomat in Ghana who has not shut his mouth on some Ghanaian issues. He has in the past received some flaks for that, but even there, if we were truthful to ourselves, could say that some of our condemnations were uncalled for. If Jon Benjamin facilitates, as part of his duties in Ghana, in getting the British tax payers' money for Ghanaians, why can't he express his views when the money is sometimes misused or misapplied and elements of corruption is evident? Diplomacy must sometimes be seen as docility.

I'm yet to hear one person blaming the four MPs who without shame call themselves 'honourables' and yet used misrepresentations and fraud to acquire UK visas for their relations who either overstayed their visas or never left the UK.

I heard George Boakye, the former MP for Asunafo South and his over 40-year-old daughter on a number of radio stations telling Ghanaians and the world Ananse stories, and nobody is telling them to stop telling lies and those childish stories. I learnt Boakye even went to beg the High Commissioner secretly, and yet he comes out on radio and still blaming Jon Benjamin.

George Boakye says while he was in the UK with his then 37-year-old daughter he acquired the visa for, told him he was visiting her uncle only a day or two before they were to leave the UK, but ended up with her boyfriend, hence he wasn't able to have contact with her to ensure she returned to Ghana with him. Who understands this Kweku Ananse story, that George Boakye's daughter was traveling within the UK to an uncle, who Boakye didn't know? And as a lawmaker then, Boakye didn't know that if one cannot trace a relative, one had to report to the police?

I learn Benjamin's tenure is almost ended and would be leaving Ghana soon. If I had any power at all, I would have requested the British Prime Minister, Theresa May, and Foreign Secretary, Boris Johnson, to extend Jon Benjamin's stay in Ghana for another five or ten years.
Only God knows how many former and current MPs who have used misrepresentations and fraudulent means to acquire visas for their girlfriends, relatives, and friends. I wish all the diplomatic missions in Ghana would do checks on MPs and former MPs, ministers and former ministers of state, chief executives, and many others in top state and religious institutions who have ever applied for visas for other people – children, wives, relatives, etc. – and I'm sure we will be shocked with the outcome which would tell us how many did it genuinely and how many did it fraudulently.

Let's stop our hypocrisy and condemn people who commit crimes and other wrong-doings in our society instead of blindly supporting such people either because of political affiliations, ethnic affiliations or otherwise.

In this particular case under reference, HE Jon Benjamin has done no wrong by writing to the Speaker of Parliament (in fact that is the very right procedure since those involved are MPs) about alleged crimes committed by Ghanaian members of parliament. I think those who have insulted Jon Benjamin and are accusing him of leaking his own confidential letter owe him an apology.