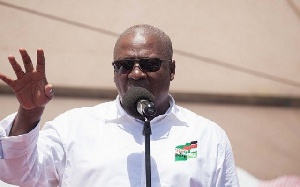 I have been listening with an extreme puzzlement the Mahama loyalists claim that prior to the 2016 general elections, Ex-President Rawlings relentlessly complained about Mahama government's incompetence and corruption, and rather chose to endorse Akufo-Addo's well-acknowledged incorruptible descriptive label.
Thus, the Mahama loyalists are holding on to an isolated thinker's view that Ex-President Rawlings's candid pronouncements somehow went against Mahama and tilted in favour of Akufo-Addo during the 2016 general elections.

In fact, such an argument is impugnable. It rather scandalises the intelligence of the voting public. After all, discerning Ghanaians have the ability to decipher between good and bad.

Let us however be honest, former President Rawlings is a founder of NDC, so there is nothing wrong for him to speak against corrupt practices within the party whose constitution he is reported to have autographed with his blood.

Besides, Ex-President Rawlings did nothing wrong by pointing out Akufo-Addo's moral uprightness on corruption.

To be quite honest, I am struggling to get my head around how and why anyone could aim accusing fingers at former President Rawlings for voicing out his opinion.
So the Mahama loyalists would want us to believe that every single Ghanaian was oblivious to the happenings in the country prior to the 2016 general elections?

In as much as former President Rawlings commands respect among the NDC foot soldiers and a section of ordinary Ghanaians, there was no way he could have persuaded anyone to change their mind and vote Mahama, considering the rampant corruption and the irreversible incompetence.

The fact of the matter is that the diehard NDC supporters were living in a denial about the harsh economic conditions prior to the 2016 general elections.

Back then, the vast majority of Ghanaians struggled to make a living or eke out an income. The dreadful errors in decision-making, the incompetence and the unbridled corruption culminated in untold economic hardships.

But in spite of the apparent harsh socio-economic standards of living back then, President Mahama and his apologists kept trumpeting their vague rhetoric, political gimmicks and meaningless slogans: 'Mahama Tuaso'; 'We care for you'; 'people matter, you matter'; 'we are transforming lives'.
Meanwhile the good people of Ghana were struggling terribly to pay their utility bills and could not even afford their children school fees.

In fact, I do not want to believe that former President Rawlings could have convinced the aggrieved Ghanaians to forgive Mahama's government over the dubious judgement debt payment of GH51.2 million to Woyome.

Indeed, Ex-President Rawlings could not have solicited votes from Ghanaians who were extremely unhappy when President Mahama metamorphosed into 'Father Christmas' and fecklessly doled out large portions of Ghana's scarce resources to party apologists like Madam Akua Donkor of Ghana Freedom Party (GFP) of two four-wheel drive cars and a luxury bungalow (estimated to cost a staggering $470,000) for no work done.

Verily, no one would have listened to Ex-President Rawlings when no meaningful efforts were put in place to retrieve the monies in the scandalous corruption cases such as GYEEDA, SADA, SUBA, Brazil World Cup, the infamous Bus Branding, amongst others.

The crucial question one may ask Mahama faithful is: how was former President Rawlings going to persuade the aggrieved Ghanaians to change their mind over the GH9.5 billion debt former President Kufuor left in 2009 and Mahama abysmally raised it to an incredible GH122.4 billion in just eight years?
Trust me, there was little Ex-President Rawlings could have done to convince unhappy Ghanaians when former President Mahama woefully shrunk Ghana's GDP from $47 billion to $37 billion in five years.

How could Mahama supporters blame former President Rawlings for NDC's humiliating election defeat when Ex-President Mahama woefully dragged an economic growth of around 14 per cent in 2011 to a nauseating 3.5 per cent as of December 2016?

The Mahama loyalists must accept the fact that discerning Ghanaians could not have forgotten the dreadful errors in judgement which culminated in massive economic hardships amid the unresolved business crippling 'dumsor'.

In ending, the Mahama faithful should accept the fact that the vast majority of unhappy Ghanaians voted against the NDC in the 2016 election due to the incompetence, the unbridle corruption and the unresolved dumsor which brought about harsh economic conditions.