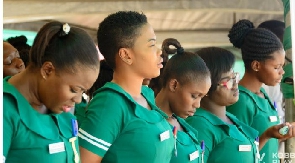 Tue, 14 Feb 2023 Source: GNA
Some residents in the Ejisu Municipality have appealed to the Ghana Health Service (GHS) to consider banning the use of mobile phones by nurses during working hours.
This, according to them, will make the nurses pay much attention while on duty and also help save the lives of patients who need critical care and attention, especially during emergency situations.

The residents made the appeal during the annual health performance review meeting organised by the Municipal directorate of the GHS at Ejisu.

They cited several instances of nurses on duty playing games on their phones while patients who needed critical attention were left unattended to.

The attitude the residents claimed had led to the loss of many lives in the area and was preventing many people from accessing healthcare in government hospitals in the municipality.
Responding to the accusations and the appeal by the residents, Mrs. Josephine Ahorsu, the Municipal Director of Health Services, condemned the behaviour of those nurses and said it was unethical for a nurse to use mobile phone while attending to a patient.

She assured the residents that the health directorate would work on their request to instill discipline among health workers in the area.

Mrs Ahorsu urged all health personnel in the municipality to take the accusations by the residents seriously and work as professionals, who understood the ethics of their work to regain the confidence of the people they served.

The purpose of the annual review meeting, she said, was to offer stakeholders the opportunity to evaluate the activities of health facilities and personnel in the municipality to help develop strategies to improve services to the public.
Source: GNA