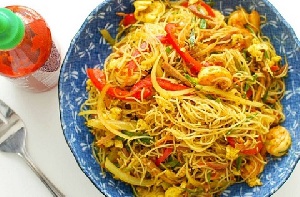 A dietician at the Trust hospital in Accra, Mr Wise Chukwudi Letsa, has cautioned Ghanaians on the excessive intake of instant noodles.
The author of the books 'Answers For Your Diet' and 'Eating To Prevent And Manage Lifestyle Diseases' explained Noodles to be rich in carbohydrates and part of the starchy food family and therefore, intake at the wrong time could be stored by the body as fat.

He added that consuming a large quantity of it in one sitting could result in weight gain and the development of a potbelly.

In an interview with gijonlinenews.com, Mr Letsa stressed that "the best time to take noodles is in the morning, afternoon and early evening." He clarified that, by early evening, he meant before 7 pm.

The dietician held that noodles being readily available and somehow cheap does not make them entirely healthy.

Over the last few years, the noodles business has seen massive patronage as it has become a common late night delight for most Ghanaians.
Speaking to Mr Este, a noodle vendor at caprice as to why he does not operate during the day, he had this to say: "Personally, I would prefer to sell during the day so I can be with my family at night, but, most of my customers claim to have lots of options to choose from during the day and would easily opt for noodles at night since it is readily available".

However, Mr Letsa explained that noodles can form part of one's diet as the body needs carbohydrates to function properly but cautioned consumers to be mindful of the time for consumption.

To answer the question of what should be eaten if one can only eat supper at a time later than 7 pm to avoid complications, he recommended: "dried fish light soup, tea without bread and basically anything free of starch."

These, he said, would "help prevent high blood pressure, weight gain and the development of potbellies."