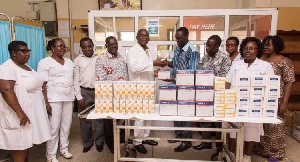 Ernest Chemists Limited, a leading pharmaceutical company, has responded positively to the appeal made to corporate Ghana to support the Sekondi-Takoradi recent gas victims.
The company has presented assorted drugs and non-drug items worth thousands of Ghana cedis to the Ghana Ports & Habours Authority Hospital (GPHA) in Takoradi in a bid to lessen the financial burden brought upon the victims and the hospital.

The items included several pieces of Vioplex-T antibiotic spray, Cuticel (sterile gauze), gauze bandage and Volpar tablets (diclofenac sodium+ paracetamol).

Presenting the items on behalf of Ernest Chemists Limited, the Territorial Sales Manager for the Western and Central Regions, Naphtali Ato Impraim, said, "The CEO of Ernest Chemists Limited, Mr Ernest Bediako Sampong, has decided that the company lend some support to the victims as well as the hospital by donating to the victims to help alleviate their pain and help their wounds/burns heal faster so they can return to their normal lives."

He stated that the company is deeply touched by the accident which occurred on May 9, 2017, disrupting the lives of over 100 victims and their families.
The company, he said, "Has decided to donate some of its products to the hospital which is under severe pressure to take care of the fire victims who are currently hospitalised at the facility; that is why we are giving these gifts from our hearts to you. We pray and hope these supplies will be a blessing to you all."

Mr Impraim expressed the hope that other capable institutions would hurriedly join in to adequately make life better for the victims of the catastrophe.

The Medical Director of the GPHA Hospital, Dr Vitus Annab, who received the items on behalf of the management, expressed their gratitude to the leadership of Ernest Chemists Limited for the heart-warming gesture and said the items would go a long way in helping the victims recover quickly.

He commended Ernest Bediako Sampong, the management and staff of the company for their compassionate response to their plight and gave the assurance that the items would be put to judicious and honest use to alleviate the suffering of the 30 patients currently on admission at the facility.