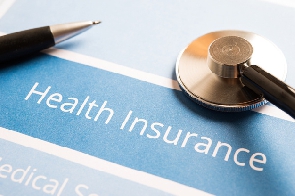 Sun, 21 May 2023 Source: GNA
Ghanaians have been advised to insure their health for financial cushioning against future health emergencies.
"It is very important to have an insurance surrounding health because no one can predict what the future holds regarding our health. Try and entrust your health into an insurance because it takes care of risks that are unknown.

"In these times when money is very hard to come by, don't wait until you are hit by any emergency. Go and get your insurance card and be sure that you'll get the best benefits."

Mr Robert Ofosu-Apea, Chairman of Robert Ofosu-Apea and Friends gave the advice during Phase Two of a Free National Health Insurance Scheme (NHIS) Registration Exercise in Accra.

It was organised and fully sponsored by Robert Ofosu-Apea and Friends, in collaboration with the National Health Insurance Authority.

Mr Ofosu-Apea said the event was put together to mitigate health expenses of community members by helping those who for some reasons, found it difficult to register or renew their NHIS cards.

He added the huge patronage of the Phase One, informed his decision to put together the second Phase to benefit about 800 people from neighbouring communities.
Mr Ofosu-Apea said he and his team had organised free extra classes for Senior High School students on vacation, adding that, he had plans of putting together other programmes to improve living conditions of community members.

He thanked his friends and partners for the assistance so far and urged the community to embrace all other activities he would put together for them in future.

Mr James Agban and Madam Mary Danyipe, both beneficiaries of the exercise thanked Mr Ofosu-Apea for the kind gesture and urged others to emulate.

They advised Ghanaians to take advantage of the exercise to either get a new card or renew their old one.

"Until my card got missing, I used to benefit from it anytime I went to the hospital. I did not pay any money except for drugs not available at the hospital or not covered by the insurance. I advise Ghanaians to take their NHIA card registration and renewal seriously because it proves helpful in critical times,"Madam Danyipe said.
Source: GNA