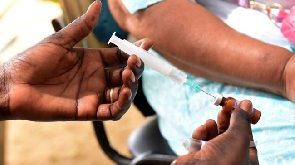 Thu, 9 Mar 2023 Source: GNA
The Manhyia government hospital in Kumasi has recorded its first case of measles after many years of zero recordings of the disease at the facility.
The authorities of the facility expressed worry about the emergence of the disease and its possible spread in the area due to shortages of vaccines for the treatment of the disease, which mostly affected babies from birth up to at least 18 months.

Currently, the facility does not have vaccines for measles, polio, yellow fever and tuberculosis (BCG).

Darius Adjei Baffour, the Disease Control Officer at the hospital, told the Ghana News Agency during a visit that the situation was becoming unbearable, but hoped the supplies would come in soon.

He said the facility had in stock pneumococcal conjugate vaccines, tetanus-diphtheria, inactivated polio vaccine, and penta and meningitis vaccines.

Darius Baffour said the hospital had for many years recorded zero cases of measles and other six childhood killer diseases, but the current situation could pose a serious challenge.

Some of the nursing mothers, who had brought their babies to the facility for vaccination, were disappointed when they were told to go back due to lack of vaccines.
They told the GNA that they were worried about the current situation in the country and its possible effects on the health of children.

Ayisha Mohammed explained that she was supposed to come for the last vaccination for her baby but surprisingly, she was told to go away due to the absence of the vaccines.

Another nursing mother, who gave her name only as Sister Amma, appealed to the government to urgently do something about the situation before things got worse.

The nationwide shortage of childhood vaccines has the potential to increase the vulnerability of children to the various diseases the vaccines seek to protect them against.

The government has, however, assured the nation that the vaccines would be available in the country in the "few weeks" but until that, Ghanaians need to pray to avert the possible outbreak of some of these diseases across the country.

Already, there have been reported cases of some of these diseases in some parts of the country.
Source: GNA