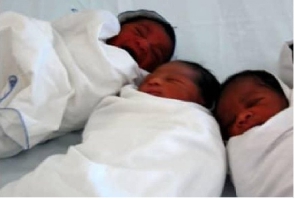 Wed, 1 Mar 2023 Source: GNA
The Ekumfi District Directorate of the Ghana Health Service (GHS), has cautioned religious institutions and spiritualists to desist from delivering babies at their prayer camps and shrines.
The directorate said when the practice is stopped, it will help safeguard the safety and well-being of both mother and child.

The act is said to be one of the factors in deprived rural communities contributing to high maternal, neonatal and child mortality rates affecting efforts by health officials and stakeholders in fighting deaths associated with pregnancy and childbirth.

The Directorate has, therefore, called on the leadership of religious institutions and spiritualists to advise and ensure such practitioners, especially the Twelve Apostles Church and African Faith Church desist from delivering babies at their camps.

"Churches and spiritualists delivering babies is stifling moves by the GHS to attain zero maternal and infant deaths and there is the need to deal with it quickly," it added.

Martin Sumani Daanku, the Ekumfi District Health Director who made the call in an interview with the Ghana News Agency (GNA), said cultural and traditional beliefs surrounding pregnancy in Ghana contributed to the phenomenon.
He said some pregnant women seek help from pastors, spiritualists, and others instead of accessing healthcare for proper examination, early detection, and treatment if there was a problem.

The Ekumfi district had for some years recorded zero maternal and neonatal deaths because most critical pregnancy and delivery cases were delayed at the camps and shrines before being referred to hospitals in other districts due to complications because of late arrivals and some of them die at the referred facility.

The district had seen an increase of home deliveries with low attendance of antenatal clinics, and this was affecting accurate data collection among others in the area.

Daanku in this regard urged pregnant women to attend antenatal clinics and report early at health facilities for delivery to avoid complications.

He also appealed to the Government to construct an ultra-modern district hospital through the agenda 111 initiative to improve healthcare delivery in the district.
The Ekumfi district with a population of about 60,000 lacked improved health care facilities which was affecting access to services, especially for pregnant women, and children.

Services such as scans, laboratory tests, surgeries, specialized services and others had to be transferred to neighbouring hospitals in Mfantseman and Effutu Municipalities which tend to affect patients in need of emergency medical care and diagnostic services.

"Many residents are living with various illnesses because they do not have the money to travel for care at referral hospitals," he noted.

"We have high vulnerability rate, therefore, when they are referred to hospitals for care, they are unable to go. But if we had our own district hospital, we could have handled the cases here," he added.

The District Director said some Community-based Health Planning and Services (CHPS) compounds were assisting in delivering healthcare services in the area but needed much logistics to improve service delivery.
The goal three of the United Sustainable Development Goals (SDGs), he said, required member states to, among others, ensure timely access to primary healthcare by all at all levels by 2030.

Meanwhile, David K Awusi, the Chief Executive Officer (CEO) of YoRI International, a Non-Governmental Organization (NGO) when contacted, expressed the NGO's commitment to collaborate with the district health directorate under a project it was undertaking in rural communities to improve access to health care delivery in the Area.

The project dubbed: "Towards achieving Zero Newborn and Maternal Mortality in Grassroots Communities" with funding from the Otter per Mille of the Waldensian Church of Italy, would sensitise rural communities on antenatal care, newborn, child, and maternal health issues to ensure no woman died at childbirth.

The goal of the project is to "educate and sensitize 10,000 members and directly assist 90 pregnant women to deliver safely across eight endemic grassroots communities in Ghana by 2023", he said.
Source: GNA